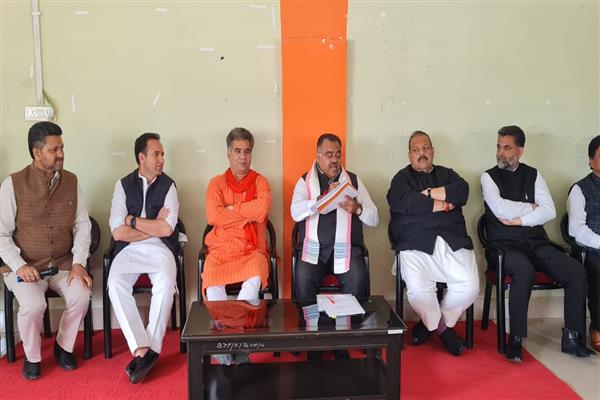 Srinagar, Mar 24 : BJP National General Secretary and in charge of Jammu and Kashmir, Tarun Chugh on Thursday said the people of Jammu and Kashmir are joining the BJP as they believe that under PM Modi's double-engine government J&K is going forward on developmental path.
Addressing a press conference in Kishtwar, Chugh said that instead of handing over computer and pen, three families in J&K gave stones in the hands of youth and in the name of development, they only developed their few coteries, advisers and their families.
"Lot of funds were pumped into Jammu and Kashmir for development, but they were never utilised on ground. J&K's beauty and tourism went backwards due to the eclipse of their terrorism," he said.
He said that since PM Modi abrogated article 370, Jammu and Kashmir witnessed a new dawn of development and people heaved a sigh of relief.
"Be it during Covid-19 pandemic people of J&K witnessed massive development and relief. Every citizen was given free Covid vaccination, free medical insurance was also provided to everyone. These are the few examples of development and progress in Jammu and Kashmir," he said.
Chugh said that DDC and BDC elections were held here and democracy reached to the grassroots level and now assembly elections will also be held soon and three families will vanish from here forever.
He also said that The Kashmir Files movie had portrayed truth and those who are criticising it had acted a smut spectators then. kns