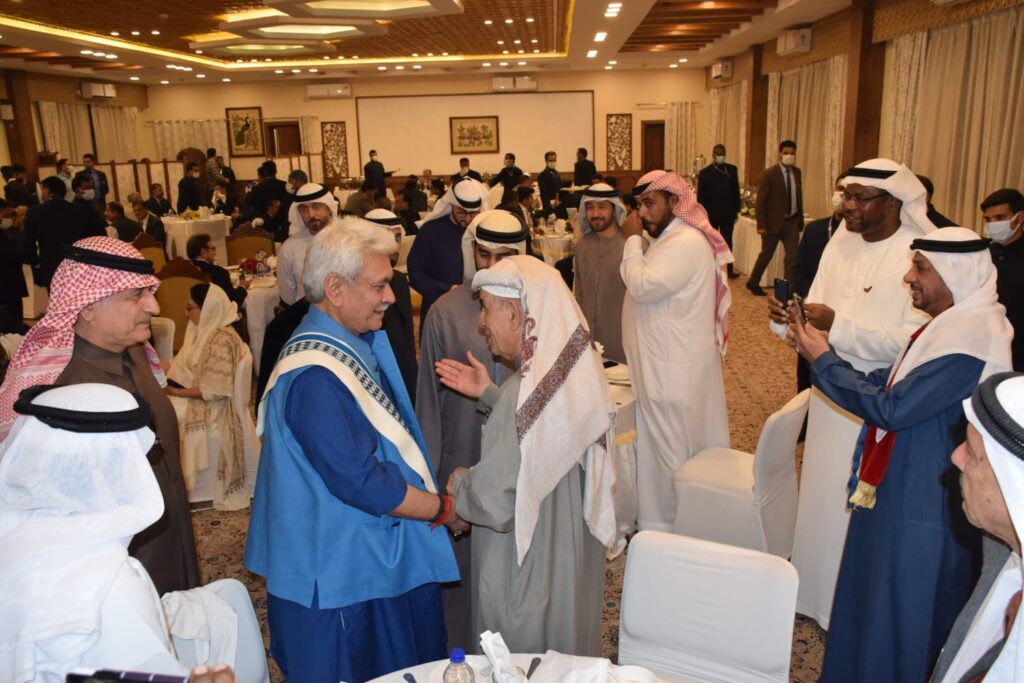 Srinagar, Mar 22: Jammu and Kashmir Lieutenant Governor Manoj Sinha Tuesday said that so far the UT administration has received investment proposals worth Rs 27000 Crore for which the land has been already allotted while in the next six months, the government expects Rs 70,000 Crore outside investment.
LG Sinha stated this while speaking to media men after addressing Gulf Countries Investment Summit at SKICC on the banks of famous Dal Lake here.
"Today, we have investors from Gulf countries here with us who are ready to invest in various sectors including Hospitalisation, Hospitality, Cold Storage, Agriculture, Food Processing, Health and Medical Education Sectors etc," the LG said.
Sinha said that J&K was going through a "transformative phase" where pace and prosperity will be special features.
He said the so far J&K government has received investment proposals worth Rs 27000 Crore for which land has been allotted and work has also started. One of the investors is Jindal Steel Ltd," the LG Sinha said. The Investment Summit was attended by CEOs of top UAE and Hong Kong Companies; Women Entrepreneurs, Start-up representatives and Exporters.
Earlier, speaking at the summit the LG said that the visit of CEOs of top companies, entrepreneurs, start-up representatives, exporters in J&K is an expression of confidence of the industry leaders in the potential for business cooperation between J&K and Gulf countries.
"Since 2014, India's relationship with Gulf countries has undergone a massive evolution which is being translated into a vibrant, revitalized economic partnership with J&K that will not only diversify our export basket but will also create a conducive environment for the expansion of the existing trade," he said. "We have worked with a coherent framework in the last two years to harness immense natural resources, economic potential of J&K."
He said that the government promises to provide global standard end-to-end facilities for the businesses, skilled workforce, transparent and hassle-free regulatory mechanism, and creation of necessary infrastructure wherever required.
"Since my Dubai Expo visit earlier in January this year, many foreign companies from UAE have announced long-term plans for J&K. We are ready to take the relationship to a qualitatively new level and strengthen our economic partnership", he added.
The CEO of Century Financial, Bal Krishen, a native of Jammu's Doda region, who headed the delegation of businessmen said that the delegates have visited J&K with a clear mind set for investments.
He termed the visit of business delegates from the Gulf a huge step towards growth and development of UT, and said that it will lay a strong foundation for a better and prosperous future where dreams and aspirations transform into reality.
Meanwhile, the LG announced that Rawalpora and Peerbagh area of Srinagar will get round the clock uninterrupted power supply as the process of installation of smart meters have ended in these areas. "We will cover other areas of Srinagar as well," he said, adding that "we are committed to provide quality power supply where not just one minute cut would take place."