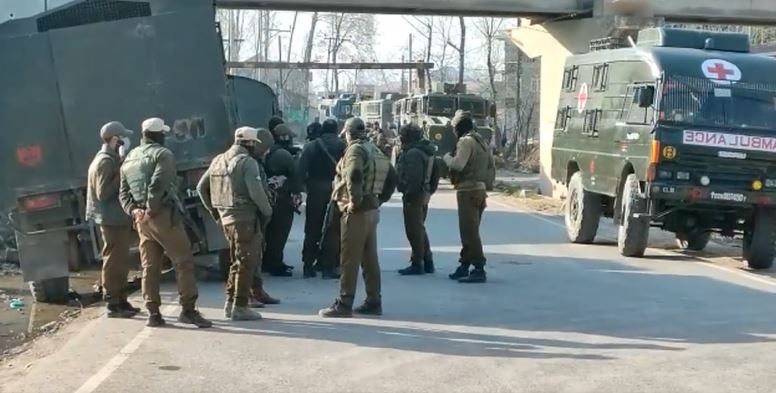 Srinagar, Mar 16: Three local Lashkar-e-Toiba (TRF) militants were killed in an overnight gunbattle at Nowgam area of Srinagar outskirts, police said Wednesday.
Talking to reporters here, Inspector General of Police (IGP) Kashmir Vijay Kumar said that while acting on a specific lead about the presence of militants in Nowgam area of Srinagar, police laid a cordon in the area late on Tuesday night. "The operation took time as we first evacuated civilians to avoid collateral damage," the IGP said.
He said that in the ensuing encounter, three local LeT (TRF) militants were killed. "Two slain have been identified as Adil Teli, Saqib Tantray of Shopian and the third one is most probably Umer Teli. We have called Umer's family for identification," the IGP said, adding that the three slain were involved in the killing of Sarpanch Sameer Ahmed Bhat of Khonmoh. He said that one AK-47 riffle, and two pistols were recovered from the slain.
"This module was targeting Panchayat representatives as their masters don't want grassroots democracy to flourish here," the Kashmir police chief said.
He said police have busted all the modules involved in the killing of Sarpanchs. "We also busted the module involved in the killing of a CRPF man and a TA soldier in Budgam. Only once case was pending, that of Sarpanch Sameer, and with today's encounter, that too stands solved," he said, adding that adequate steps have been taken to ensure safe accommodations to Sarpanchs and Panchs in Kashmir. kno