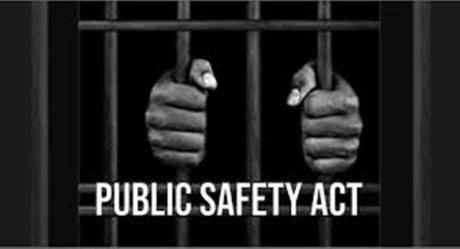 Srinagar, Feb 28: Two persons alleged of involvement in drug peddling were on Monday booked under stringent Public Safety Act (PSA) in north Kashmir's Kupwara district.
Official sources said that two persons identified as Samiulla Bakkshi alias Danraj son of Hafizulla Bakshi of Branwari Kupwara and Iqbal Jaffer Dar son of Mohd Abdullah Dar, of Chalgund Haihama were detained by police on finding the duo incorrigible and deeply involved in narcotics smuggling and peddling among youth.
"Both of them were subsequently booked under PSA", they said.
Detailing further, they said Samiullah Bakshi infamously known as Dhanraj besides a narcotics peddler is also involved in four other criminal cases including theft in Kupwara town.
"The other accused, Iqbal Jaffar Dar is equally deeply involved in narcotics smuggling and is alleged of spreading a network of drugs syndicate in the district", they said.
"The duo was detained under PSA after the warrants for their detention were issued by the Divisional Commissioner Kashmir on the dossiers presented by SSP Kupwara", they added.
Meanwhile SSP Kupwara Yougal Manhas said  that the law has taken its own course.
"This will ensure deterrence to other persons who may be in one or the other way involved in such unscrupulous activities", the officer further said.