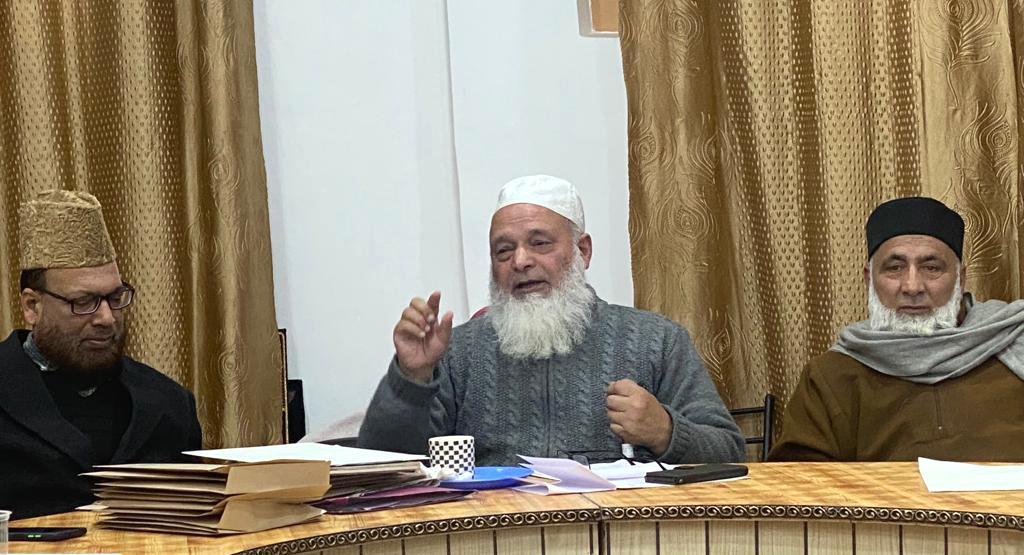 Srinagar, Feb 26 (KNO): Mutahida Majlis-e-Ulema (MMU), an umbrella of several religious organizations, Saturday termed the closure of historic Jamia Masjid as unjustified move and said that the permission being granted to open up wine shops is putting a question mark over the government claims about the measures to eliminate drug menace from the society.
Talking to the reporters, MMU leader and prominent religious cleric, Molana Rehmatullah said that the government may have differences with Mirwaiz Umar Farooq, but disallowing him to offer prayers and continuous closure of Jamia Masjid is unjustified move.
"The Jamia Masjid has historic as well as the religious significance and thus the government should allow people to offers prayers at the Masjid at earliest," he told media persons after a meeting of MMU over several social issues including drug menace, domestic violence, crime against women and others.
The Anjuman Auqaf Jamia Masjid had earlier said that the hisotirc Majid remained closed for the 30th consecutive Friday. They termed the behavior of the "authorities as extremely regrettable and reprehensible and said that on the one hand such acts constantly hurt the religious sentiments of Muslims and on the other hand this attitude amounts to sheer interference in the religious affairs, against which the reaction and anger of the people is increasing day by day".
"The government on the hand is claiming to have taken measures to eradicate drug menace from the society, but at the same time, permission is being granted for opening up of wine shops, which is putting a question mark over the claims," MMU leader said.
Rehmatulla said that isn't wine shops going to add to the crime rate, as like other drugs, there is every possibility that the drunkards would loot people or attack anyone.
"There should be no contradictory statements and the drugs menace has to be shown doors," he said, adding that as the religious clerics, they have already held a series of meetings in this regard, but the ground work has not been started at that level, which is need of the hour.
Molana Rehmatullah further added that today's meeting over the social issues was held and the participants gave their suggestions with regard to the issues. kno