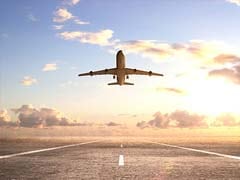 Srinagar, Feb 24: After early morning hiccups due to poor visibility, flight operations resumed at the Srinagar International Airport following improvement in wet weather conditions on Thursday.
Officials said that after early morning delays and cancellations, flights landed and took off at the Srinagar airport as the visibility increased from 400M early in the morning to 1500M around noon.
"38 flights operated so far," Director, Airports Authority of India, Srinagar, Kuldeep Singh told GNS.
A number of flights were delayed or cancelled early morning due to low visibility at the airport but as the day progressed the operations continued normally. "Eight flights were cancelled today" the Director AAI said, adding, "The passengers of these cancelled flights will be accommodated in next available flight of the concerned airline."
He said there will be no charges for rescheduling and the passenger can also exercise the option of full refund.
On Wednesday, all flights were grounded at the airport and in all 41 of them scheduled for the day were cancelled due to heavy snowfall. (GNS)