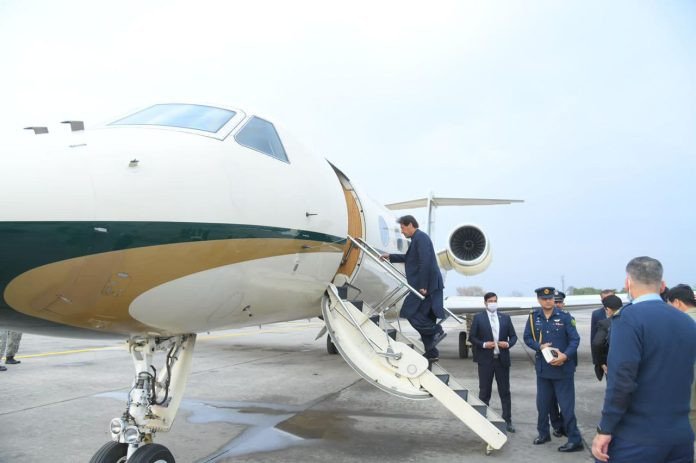 ISLAMABAD: Prime Minister Imran Khan on Wednesday departed for Russia on a two-day official visit, at the invitation of President of the Russian Federation Vladimir Putin, the Express Tribune reported.
The prime minister is accompanied by a high-level delegation including federal ministers Shah Mahmood Qureshi, Chaudhry Fawad Hussain, Asad Umar, Hammad Azhar, Commerce Adviser Abdur Razzak Dawood, National Security Adviser Moeed Yusuf and Amir Mahmood Kiani.
After a span of two decades, this is the first official visit of any Pakistani prime minister to Russia.
The bilateral summit will be the highlight of the visit. During the summit meeting, the two leaders will review the entire array of bilateral relations including energy cooperation, according to Foreign Office.
They will also have a wide-ranging exchange of views on major regional and international issues, including Islamophobia and the situation in Afghanistan.
Pakistan-Russia relations have made impressive progress over the past two decades. There has been regular interaction between the two sides at the highest level as well as the working level.
Prime Minister Imran has spoken thrice to President Putin on August 25, 2021, September 14, 2021 and January 17, 2022. The prime minister has also extended an invitation to President Putin to visit Pakistan.
Analysts believe premier's visit to the Russian capital marks the beginning of a new era in ties between the former foes – particularly after the abrupt withdrawal of US forces from Afghanistan last year.
"Bilateral relations have never been this good. Although there is a long road ahead, the progress that Russia and Pakistan have made in such a short amount of time is impressive," said Andrew Korybko, a Moscow-based political analyst.
"It is especially symbolic that these former Cold War-era rivals came together due to shared concerns about threats emerging from Afghanistan – considering that they once fought a proxy war there," Korybko said via email.
Ties between Pakistan and Russia, he explained, have improved significantly since 2014 – after Moscow lifted its arms embargo on Islamabad in a bid to help improve its anti-terrorist capabilities.
"The entrance of Islamic State Khorasan (IS-K) to Afghanistan was a game-changer that served to accelerate their already fast-moving rapprochement," he added.
Korybko, who specialises in the relationship between the US strategy in Afro-Eurasia, China's Belt and Road Initiative noted that Islamabad's defence ties with Moscow have moved past the Soviet-era hostilities in recent years.
"Russia and Pakistan have been carrying out annual joint anti-terrorist drills. This served to further increase trust between their armed forces and their permanent bureaucracies more broadly."
During the Cold War – particularly after the Soviet invasion of Afghanistan, Islamabad aligned itself with Washington. That irked the leadership in Moscow. More recently, after the US invasion of Afghanistan in 2001, relations between Pakistan and Russia plunged again, as Islamabad was given major non-NATO ally status by Washington.
According to experts, the recent shift in the relations between Pakistan and the US has pushed the country to seek better ties with Russia. The cooperation between the two sides entered a new phase shortly after US troops left Afghanistan in 2021.
Policy makers around the world, Korybko said, are fully aware that no serious player can achieve anything meaningful in Afghanistan without Pakistan's support. "Claims to the contrary are nothing but information warfare intended to manipulate mass perceptions about that country. Decision makers, however, know that such a narrative has no basis in reality."
Russia and Pakistan, the expert said, will continue to coordinate their diplomatic approaches to Afghanistan's de facto Taliban-led government as well as solutions to that country's impending humanitarian crisis.
In Korybko view, Pakistan's future outlook aligns much more closely with Russia and China than the US. "For this reason, Pakistan is expected to further enhance its cooperation with those two, potentially even on a trilateral or broader basis, not to mention the already existing bilateral ones," said the Moscow-based expert. (Express Tribune)