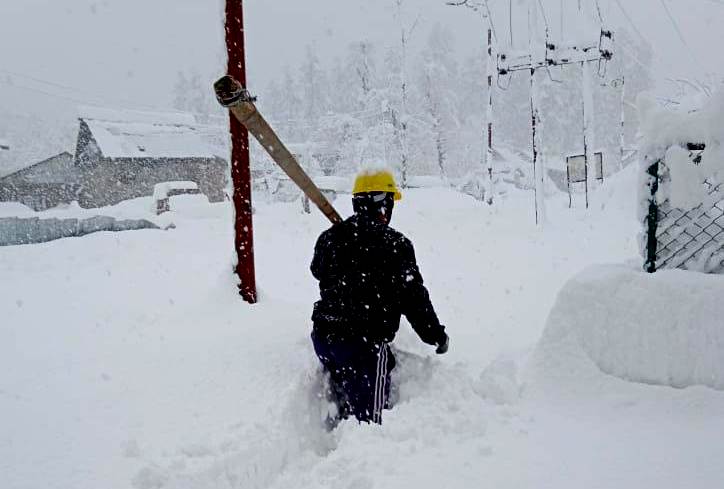 Srinagar, Feb 23: At a time when winter seemed fading away and spring winking in, Kashmir Valley received moderate to heavy snowfall since overnight, throwing normal life out of gear on Wednesday.
Most people preferred to stay indoors and those who had to venture out due to urgency faced difficulties amid continuous snowfall for the better half of the day, reports said. Public transport was largely off the roads amid continuous snowfall. While authorities pressed men and machinery to clear snow from the roads under Priority Phase-I, most of the interior roads remained snow-clogged, reports said.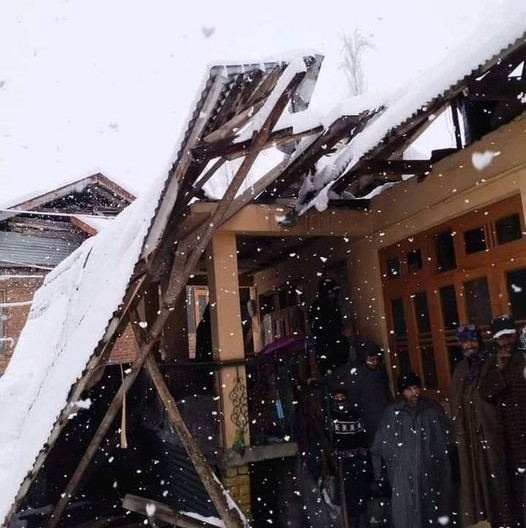 Nearly half a dozen houses, 2 sheds damaged, 2 ladies wounded in Kashmir
Nearly half a dozen residential houses and two sheds were damaged while two ladies also suffered injuries due to heavy snowfall in Kashmir that started last evening.
Reports said that several families had a narrow escape today; the residential houses collapsed due to heavy snowfall today.
Two ladies from South Kashmir's Pulwama district identified as Arifa Banoo (45) wife of Mohammad Shafi Dar of Achan and Jana Begum, wife of Abdul Rehman Dar of Lelhara Pulwama in separate incidents.
The duo was injured after the sheds collapsed, the official sources said, adding that Arifa was cooking in a shed when it collapsed and thus sustained injuries while Jan was also in the shed when it collapsed today.
Moreover, nearly half a dozen residential houses—one in Srinagar, others in Southern districts of Kashmir were damaged due to the fresh snowfall.
The houses belong to Manzoor Ahmad Gojri of Chatterhama Hazratbal, Mushtaq Ahmad Sheikh in Tral, Gh Mohammad Mir in Kanjilor Shopian, Riyaz Ahmad Bhat in Batapora Ladoo Pampore.
A few of the residential houses were also damaged in Keller area of Shopian, official sources said.
According to the details collected, a family at Gulzarpora village of Awantipora Tehsil in South Kashmir's Pulwama district had a narrow escape after a walnut tree fell on their residential house today morning.
A shed belonging to Showkat Ahmad Dar, son of Ghulam Ahmad Dar of Wandena Malhoura was also damaged after a tree fell on it, officials said, adding that there was no loss of life, but the belongings in the shed were completely damaged.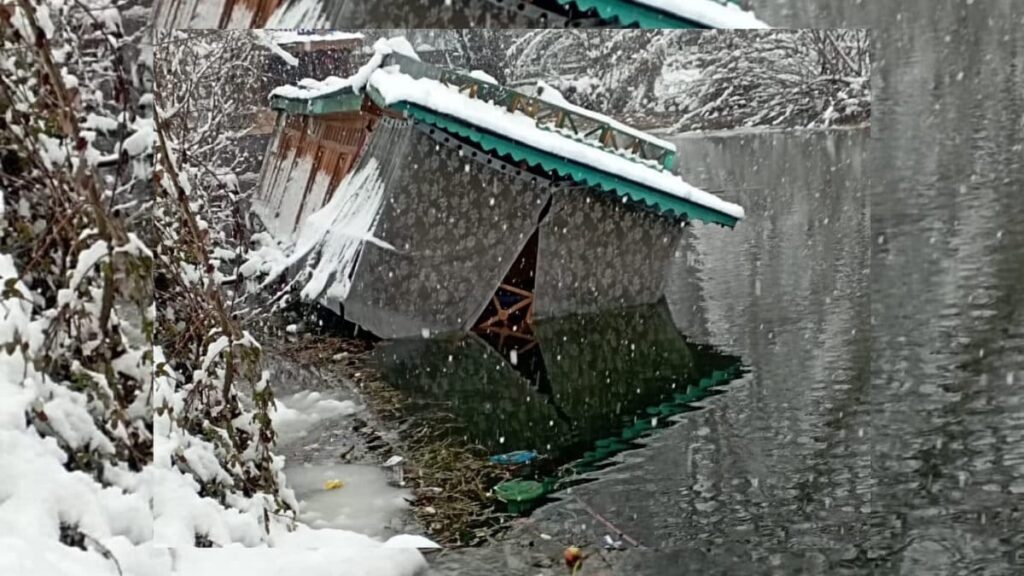 Snowfall: 7 houseboats, 6 Shikaras submerged at Dal Lake, Chinar Bagh
At least six houseboats in Dal Lake and one at Chinar Bagh were submerged on Wednesday after a fresh snowfall across Kashmir.
Official sources said that six houseboats including HB New Simla, HB Honey Moon, HB Bangkok, HB Young Marmandie, HB Holly Wood and HB Kings Throne got submerged at Dal Lake.
They said that a houseboat at Chinar Bagh belonging to Fayaz Ahmad Darma, son of Abdul Aziz Darma of Chinar Bagh was partially submerged.
Moreover, several Shikaras got submerged at the world famous Dal Lake amid heavy snowfall in Srinagar in the early morning hours.
Reports said that at least half a dozen Shikaras got submerged at Dal Lake due to heavy snowfall in Srinagar.
In the incident, no loss of life or injury has been reported, they said, adding that the locals as well as officials are on job to dewater the Shikaras.
Moreover, Deputy Commissioner Srinagar, Mohammad Aijaz Asad toured Dal Lake areas here to oversee the damages caused to the houseboats and Shikaras due to overnight snowfall.
The Deputy Commissioner, who was accompanied by, Additional Deputy Commissioner, Srinagar, Dr Syed Haneef Balkhi visited Dal Lake areas via motor boat to inspect the houseboats and Shikaras, which got sunk due to snowfall during the intervening night of 22nd February.
On the occasion, the DC directed the Revenue officials to assess the damages and furnish the details at an earliest.
Asad assured the affected house-boat owners and Shikara walas that all possible assistance will be extended to them from the Administration/SDRF Team.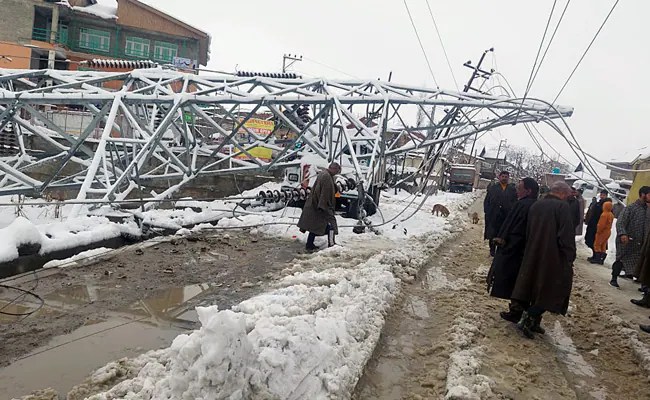 Essential services being restored on war footing basis: Div Com
 Divisional Commissioner, Kashmir, Pandurang K Pole Wednesday said that all the essential services are being restored on a war footing basis for the convenience of the general public.
He informed that plain areas of South Kashmir received 2 to 3 feet snow while Central Kashmir received 1 to 1.5 feet snow and North Kashmir 0.5 to 1 feet besides hilly areas received 2 to 4 feet snow which affected normal life and services.
Div Com said that the Mechanical Engineering Department completed 70% snow clearance under priority Phase-I while PWD cleared snow from all the roads falling under its jurisdiction.
Besides, Div Com informed that apart from 5 to 6 percent water supply lines which have been affected, all other Water Supply Schemes are functional.  He said that the affected WSS will be restored soon for which men and machinery has been put on work.
Div Com further informed that no casualty has been reported till now due to the snow and said that all the hospitals are functional while entire medical and paramedics staff is available in hospitals to render their duties and services.
He said all the essential services are being restored on priority and on a war footing basis.
Meanwhile, he appealed to the general people to keep patience and support the administration to restore affected services.
He also appealed to people not to park their vehicles on the road sides so that the Mechanical Engineering Department, PWD, SMC and other departments will not face any hindrance during snow clearance.
Besides, he further appealed to people not to throw snow of their lawns on the streets or lanes as it creates difficulties for the people and snow clearing teams.
While showing pleasure for snow fall, he said that snow plays a very important role for prolific yield in Agriculture and horticulture which form the backbone of the economy in the valley.
He said a good snowfall is also pivotal for irrigation canals, irrigation system besides resuscitating our springs which ensure constant supply of drinking water to various areas through WSS. kno