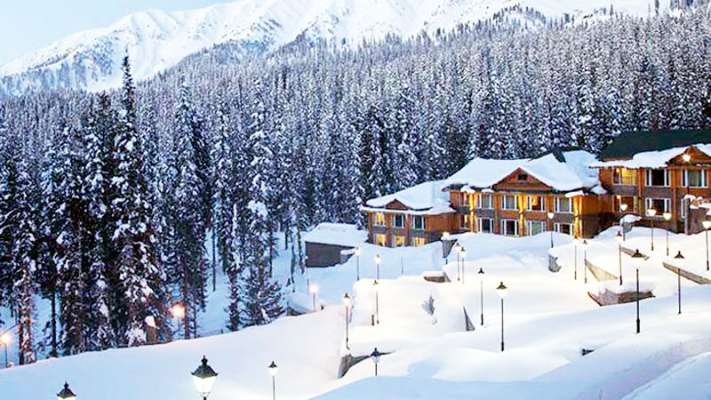 Srinagar, Feb 23: In the year 2021, major intervention for upliftment of tourism sector in J&K, Union government made record budget allocation of 786 crores in budget for tourism sector here which is 509 crores higher than last budgetary allocation with an intent to boost tourism and allied services of Jammu and Kashmir, the government said in a statement.
In a mega push to promote ecotourism in Jammu and Kashmir, government has approved development of seven new trekking routes in various wildlife protected areas.
The decision will also allow online booking of 29 forest rest houses and inspection huts in Kashmir and Jammu divisions, under a common brand and logo.
The first night flight has started operating from Srinagar Airport on March 18,2021,marking the dawn of a new era and indicating improvement in air connectivity to Jammu and Kashmir with the rest of country.
Lieutenant Governor of J&K, Manoj Sinha also launched golf training Academy at Kashmir Golf Course in July 2021 to promote and strengthen sports ecosystem in the union territory.
The United Nations Educational, Scientific and Cultural Organization (UNESCO) has picked Srinagar among 49 cities as part of the creative city network under the Crafts and Folk arts category.
This inclusion is likely to pave way for the city to represent its handicrafts on the global stage through UNESCO.
Worth to mention,  tourist foot fall crossed 6.65 lakh in 2021 compared to 4.1 lakh in 2020. 1.27 lakh tourists were recorded in November which is highest from the past decade, the statement said.
Under smart city project, 20 religious sites in Srinagar were earmarked for face lifting and renovation to attract larger number of tourists.
The ministry of tourism also organized mega tourism promotion event in Srinagar "Tapping the potential of Kashmir: Another Day in Paradise" from 11-13 April 2021. The objective of the event was to showcase the myriad tourism products of the union territory of jammu and kashmir as the destination for leisure, adventure, Eco, wedding , films and MICE(meetings, incentives, conferences, and exhibitions) Tourism.
Government of Jammu and Kashmir in collaboration with Archaeological Survey of India undertook the task of renovation, restoration and conservation work on Mubarak Mandi heritage complex, Amar singh Palace and twin sections of cable car project in Jammu to boost tourism potential of Jammu city.
Recently, Chief Secretary of J&K, Dr. Arun Kumar Mehta announced the promotion of 75 new tourist destinations through a dedicated 3-month tourism festival.
In a bid to ramp up infrastructure and boost tourism in Anantnag district of South Kashmir , the Jammu and Kashmir administration has started building infrastructure under prime minister development project at a cost of 3.5 crores.
In one of the remarkable initiatives launched by government of J&K, Lieutenant Governor of J&K, Manoj Sinha launched Jammu And Kashmir Tourist village Network under mission youth to boost rural tourism. The aim of the initiative is to transform 75 villages of known historical, picturesque, beauty and cultural significance into tourist village. Another aim is to promote youth led sustainable tourism, community entrepreneurship and to empower women and youth by offering direct and indirect employment opportunities. All this will help in talking a long step to boost rural economy.
A provision for multitude of benefits has been there in J&K tourist village network scheme like Rs 10 lakh for infrastructure, camping material and equipment, home stays etc. Upto Rs 10 lakh for shooting any film or songs by empaneled companies, and upto Rs 2 lakh to local groups for shooting songs etc.
Jammu and Kashmir government launched new film policy to boost tourism and investment in the union territory. The policy envisaged the setting up of Jammu and Kashmir film development council(JKFDC).
Moreover, river festivals on the lines of ganga festival, were organized in December to create awareness among the general public regarding cleanliness and preservation of rivers in Jammu and Kashmir.
In December 2021, the administration organized safari tour in Srinagar's Eidgah area to boost Kashmir art and promote artisans with ramifications on tourism industry of Kashmir as well.
With the implementation of 73rd and 74th constitutional amendment acts in union territory of Jammu and Kashmir regarding local self government and with the resultant devolution of financial powers to the panchayats at the three tiers, mobilization of resources in the form district capex plans has resulted in accelerating the pace of infrastructure development at the block and panchayat level.
Tourist huts, viewpoints, community sheds various other useful structures have been developed to further push tourism in the union territory. Plan allocation of district plans for all 20 districts of union territory has been more than doubled from 5136 crore in 2020-21 to 12600 crore in 2021-22.
Further at the global fora, on the sidelines of Expo2020 at Dubai, Jammu and Kashmir tourism organized an outreach meet with the stakeholders of the Middle East and adjoining areas. The event was part of a series by J&K tourism to promote tourism potential and varied tourism products of the union territory. The aim has been to attract tourists from the middle east to explore the natural beauty, cuisine, art, culture and other products offered by J&K.