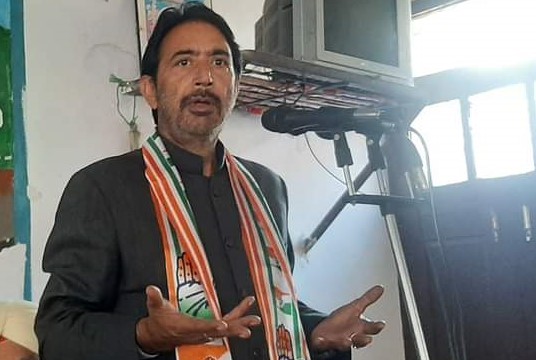 Jammu, Feb 18: Jammu and Kashmir Pradesh Congress Committee (JKPCC) on Friday rejected the 'draft report of Delimitation on Jammu and Kashmir', which was recently released through associate members (member parliament from Jammu and Kashmir).
JKPCC chief G A Mir accompanied with other Congress members said that the recently released report has been prepared by the dictation of the BJP and puts question on the credibility of retired Justice and Election Commissioner of India, who are part of the Commission.
Playing an audio clip, in which UT J&K BJP Chief Ravinder Raina in conversation with former Doda MLA Shakti Raj Parihar assured that some area of Ramban constituency is clubbed in Doda segment, which he has to take care of now.
The JKPCC chief said that the audio clip is evident of how BJP drew the lines in the draft delimitation report, "so that their own leaders would be benefitted."
"This is quite evident from the audio clip that the BJP prepared this draft in its office. We are not blaming the BJP but it put the entire exercise of delimitation on stake," Mir said adding, "in other words we can say that it's not delimitation commission but devastation commission, which is hell bent to add misery in the lives of Jammu and Kashmir residents".
Mir said that the historical assembly segments were erased and new terminology of north, east, west and south were included.
"Had commission taken help of satellite maps rather than a particular political party, the report would be much more refined and beneficial to people than this troublesome," Mir said.
Mir said that the commission had only one formal sitting with people and representatives of various political parties in its entire tenure, which seems fishy, as not a single recommendation was included in the draft.
Mir asked the delimitation to correct all the workings and keep in mind the aspirations of people under the ambit of Indian Constitution to restore faith of people in the institutions.