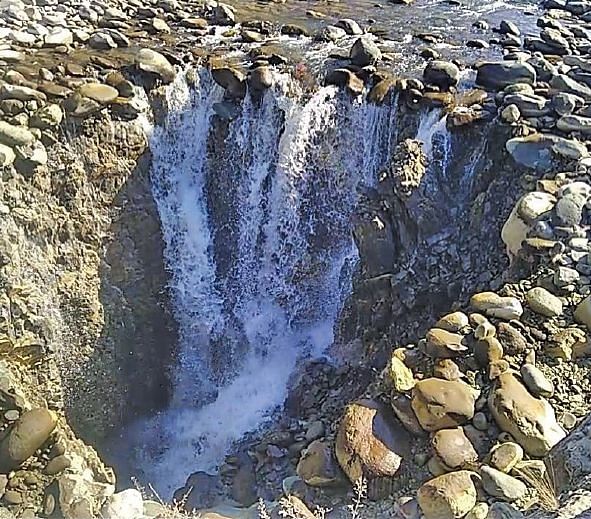 Srinagar, Feb 16 : A famous Kashmiri trout stream continues to drain into a sinkhole since the last several days due to which several kilometres of the stream have dried leaving aquatic species dead.
Brengi stream is one of the most famous trout angling streams. Earlier this week a huge sinkhole developed in the stream draining all the stream water into it.
Locals said that since whole water of the stream gets drained into the sinkhole, which has left many kilometres of the stream dry.
They said that during the first two days after sinkhole was developed, locals caught trout fishes in kilos but due to unavailability of water aquatic species including small trout fishes in lakhs have died.
Locals said that in winter all the streams and rivers in the Valley have minimum discharge so authorities must take steps to divert water at an earliest, otherwise in spring water flow increases and it can become tough to divert it.
They added that agricultural land of around 100 villages are dependent on this stream for irrigation purposes and authorities must take immediate steps in diverting water from the stream.
Meanwhile experts believe that it is a natural phenomenon and there is no need to panic.
They said that water dissolved minerals in the rock, leaving residue and open spaces within the rock.
"Lowering of groundwater levels can cause a loss of support for the soft material in the rock spaces that can lead to collapse and changing groundwater gradients (due to removing or introducing water to the system) can cause loose material to flush out quicker from the voids and the surface to collapse in response," they said.
"Any change to the hydrologic system (putting more water in or taking it out) causes the system to become at least temporarily unstable and can lead to sinkholes," they added. Sinkholes can result from seasonal changes in the groundwater table, freeze and thaw of the ground, and extremes in precipitation."
Meanwhile, the district administration has imposed section 144 around the site of the sinkhole to prevent any mishap from happening but people continue to throng to the area.
Officials said that a team of experts are studying the site to understand the phenomenon and steps are being taken to divert water.
Tehsildar Kokernag has advised media people not to visit near the sinkhole and action will be taken against those who violate government orders.
"It has been observed that despite restrictions being imposed on any assembly of general public or movement of individuals near sinkhole at Wandevalgam vide order no SDM/Kng/21-22/2245 dated 11.02.2022 of Sub Divisional Magistrate Kokernag, a number of media personnel continue to move close to and into the sinkhole, posing threat to their own life. This in turn attracts the general public near the sinkhole which increases the threat to life and makes crowd control difficult for the administration," reads the circular issued by Tehsildar Kokernag.
"Hence all media personnel are hereby advised and warned not to violate the restrictions imposed around sinkhole," circular said. "Action under relevant sections of law shall be taken against anyone found violating the order referenced above."kno