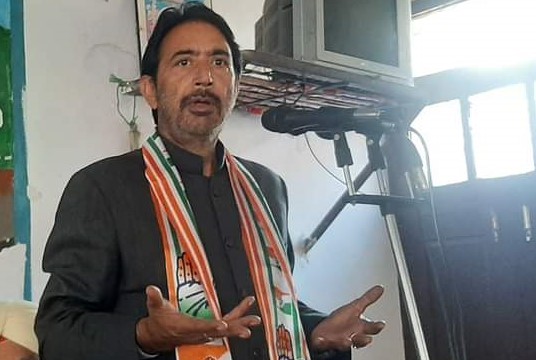 Ramban, Feb 15 : Jammu and Kashmir Pradesh Congress Committee (JKPCC) President  GA Mir accused BJP Govt in J&K of being a total failure on all fronts, especially employment generation, and claimed that there is no "double engine government" in J&K as every now and then claimed by BJP leadership.
For the past seven years, the BJP has been emphasizing on "double engine government" – same party rule at the Centre and in J&K – claiming that it would ensure faster development.
Recent reports of the central government's agencies showed J&K government as a failure on almost all indicators. Whenever government is asked about it, it has expressed its ignorance. This shows that BJP government is not serious about meeting the basic needs of the people," Mir said.
Mir was speaking on the occasion of membership drive with the slogan "Aayo Chalein Congress Ke Sath, Badlein Pradesh Ke Halaat" organized by District Congress Committee Ramban reached Tuesday under the leadership of JKPCC President GA Mir along with JKPCC Working President Raman Bhalla besides Ravinder Sharma Chief Spokesperson Congress, Yogesh Sawhney JKPCC General Secretary, Gulzar Ahmad Wani Ex MLA, Sewa Dal Chairmen Vijay Sharma Babbi, Transport Department Chairmen Gajan Singh, Parnav Shagotra Ex Youth President.
Prominent among those present on the occasion include Ashok Kumar Ex MLA Farooq Ahmed Kotach, Arun Singh, Feroz Khan, Madam Zahida Khan, Karleep Singh, Imtiaz Singh, Jai Ram Bhagat, Feeroz Ahmed Wani, Gopal Raina, Mohd Khalid Wani, Janak Singh, Rehmatulla Runya, Sharuk Bhatti, Amin Bhatt, Mohan Singh, Munshi Ram, Mohd Iqbal, Rashid Malik,Dara Singh, Narinder Kour beside others, a party statement .said
Mir targeted the government, claiming that its seven years rule was marked by perpetual confrontation with the Opposition, unaccountable centralisation of power and authoritarian style of functioning.
He projected the government as a "failure" on all fronts – from economy to foreign policy. As far as the foreign policy is concerned, he said, "Knee-jerk responses and abrupt changes with regard to many countries have caused setbacks leading to belittling of issues and India's response thereto, both at regional and international level."
Alleging that the political atmosphere in J&K has been "vitiated by design and default in furtherance of BJP divisive agenda", Mir said that an orchestrated campaign was unleashed, which undermined social unity and created turbulence, disharmony and distrust.
Terming Congress Party as a dependable political platform for the people of J&K, he said assuaging socio-economic and political aspirations of the people and undertaking development on a massive scale holds key to steer J&K to peace and prosperity.
He stressed on the urgent demands of the people calling for confidence building political measures that will set in motion a genuine democratic exercise in Jammu and Kashmir.
Mir deliberated upon various day to day problems being faced by the public in the absence of any elected Govt said that the onus is on the BJP which got huge mandate in the last Assembly and Lok Sabha elections as well as the current Lok Sabha elections besides being the ruling party at the Centre and J&K being under direct Central rule.
He said that it is most unfortunate that the common people have no medium to raise their voice for their basic necessities like water, power, healthcare and education due to the neglect of the BJP representatives.
Stating that the BJP Government in J&K proved disastrous and ominous in every aspect, he said that amid the administrative disarray, the BJP was only indulging in flip flops and opportunist politics.
Bhalla highlighted the betrayals of BJP with Refugees, small and marginal Farmers, unemployed youth, residents of ALC areas and asked people to fight for their rights, saying that the bureaucratic regime is accountable to none except BJP leaders.
He said the Jan Jagran Abhiyan launched by the party successfully highlighted and lodged strong protest against policies of the Centre towards the people, the Party will continue to fight against BJP Govt on the issues of public importance in order to make it accountable and answerable to people.
Bhalla said that Jan Jagran programme was one of the party's great endeavor to reach out to people to highlight their problems, which they have been facing since the Modi Govt assumed power at Centre. What kind of Governance BJP is talking about, in which common people have no right to say anything or protest against the unwanted decisions and policies of the Govt imposed on them, he questioned.
Bhalla expressed serious concern over the highest rate of unemployment, inflation and economic crisis in J&K and said every sector in J&K is worst hit due to the policies adopted by the Govt.
"J&K is at the crossroads of history and politically matured people will have to change the discourse by isolating reactionary elements," he said.
Highlighting the crucial role played by the people of J&K in promoting and sustaining secular ethos even during the most testing times, Bhalla called for a "decisive battle against divisive forces, who have taken central stage by exploiting regional and religious sentiments to further their myopic and nefarious agenda.
"This can be possible only by forging unity and further strengthening the bonds of amity," he said. Bhalla said the challenges being faced by Jammu and Kashmir were manifold, especially in the wake of "hate politics" being promoted by the vested interests, as a shield to hide its "failures on all fronts".
"Communal politics is against the secular ethos of Jammu and Kashmir and those perpetrating it are doing a disservice to the people," he said, adding that his party would continue to cleanse degenerated political atmosphere by strengthening the secular fabric, which is cornerstone of J&K.