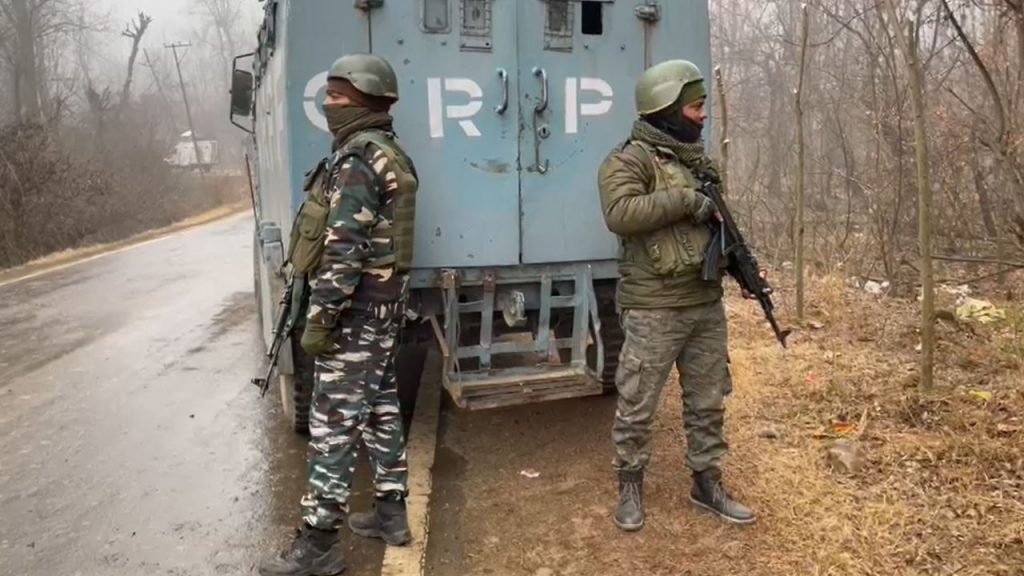 Bandipora, Feb 11 : A special police officer (SPO) of J&K police was killed while four security forces personnel including an assistant sub inspector of BSF sustained injuries in a militant attack at main town near Nishat park in northern district of Bandipora on Friday.
Officials said that the militants hurled a grenade at the joint naka party of security forces near Nishat Park in Bandipora which left the SPO of J&K police dead and other four security men including an ASI of BSF were injured.
They said that the SPO was killed in the attack while four others including an ASI of BSF  sustained injuries, who have been shifted to the district hospital Bandipora for treatment from where the two of them were taken to army Srinagar hospital for advanced treatment.
The officials identified the slain SPO as Zubair Ahmad Shah son of Abdul Rasheed Shah, a resident of Papchan, Bandipora.
While the injured have been identified as head constable Mohd Shafi son of Mohammad Abdullah of Sumlar Bandipora, constable Rayees Ahmad son of Mohd Rafiq a resident of Mader Bandipora, Constable Muhammad Yasir Turk son of Mohd Ajmal Turk of Quilmuqam Bandipora and a BSF ASI Umesh Singh son of Mahatan Singh.
Meanwhile, soon after this incident, the entire area has been cordoned off to nab the attackers and search operation is going on.
A police spokesman in a statement  said that at about 5. PM, militants hurled a grenade on a joint party of Police and BSF in Bandipora resulting in the death of one police personnel and injuries to four others. Senior officers reached at the spot.
"Preliminary investigations revealed that militants hurled a grenade upon the Naka party near Nishat Park in Bandipora in which five Police/BSF personnel received splinter injuries and were evacuated to hospital," the spokesman said.
However, among the injured police personnel Zubair Ahmad succumbed to his injuries while as the condition of other injured personnel is stable.
Police have registered a case in this regard under relevant sections of law. Investigation is in progress and officers continue to work to establish the full circumstances of this crime. "Area has been cordoned and search in the area is going on," he said.
Pertinently, on December 10 last year, two cops were killed in Gulshan Chowk area of Bandipora district. Meanwhile, the body of slain cop Zubair reached his native village Papchan with women seen wailing and beating chests. As per the family members of slain Zubair, his catchment ceremony had taken place just four months ago.