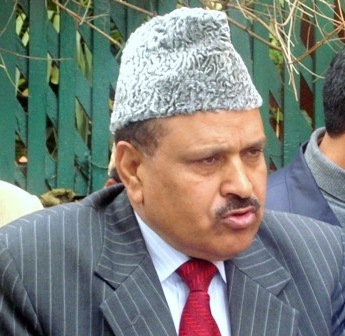 Srinagar February 10:  Peoples Conference senior vice president and former minister Abdul Gani Vakil today said the decisions being taken by Narendra Modi led BJP Government are aimed at disenfranchising and disempowering the people of Jammu and Kashmir, especially the people from the valley.
While addressing a workers meeting in Srinagar, Vakil said the draft proposal of Delimitation Commission is astonishing and sans any sense and logic.
"A nationalist person feels that with these decisions the people of J&K are not brought into national mainstream but are further alienated and pushed to the wall," he said.
Vakil said the recent report of Delimitation Commission is a glaring example of how people of J&K are disenfranchised and the demography is being forcefully changed under a well conspired plan. The revocation of Article 370 has already alienated the people of J&K from the national mainstream and they feel being pushed against the wall further," Vakil added.
The senior PC leader said Article 370 was as a bridge and strengthened the bond of J&K with the rest of the country, but with its revocation, the people of J&K have been robbed of honour, identity and dignity.
Vakil appealed to the Union Govt to take decisions that will bring people of J&K towards the national mainstream and not push them away. "Don't push people again and again against a wall. Everything has a limit. Don't let the volcano erupt," Vakil warned. kns