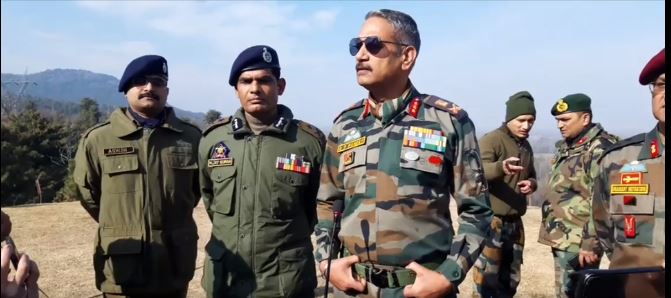 Srinagar, Jan 27: On the occasion of Republic Day, Lieutenant General Devendra Pratap Pandey has been awarded the prestigious 'Uttam Yudh Seva Medal' (UYSM), in recognition of his tenure as General-Officer-Commanding of Srinagar-based Chinar Corps.
"Lt Gen DP Pandey over the last one year has synergised all stakeholders towards 'Breaking the Cycle of Violence'. He has drawn focus on the eco-system of 'White Collar terrorists', who sustain the cycle of violence by continuing to radicalise vulnerable youth and leading them to violence by inciting them to join militancy. He infused humane approach in kinetic and non-kinetic domains, thereby ensuring peace and marked reduction in violence parameters", reads a statement issued here.
"Working in complete harmony and synergy with the other Security Forces, JK Police, CAPF, intelligence agencies and in coordination with civilian administration, he contributed in maintaining peace in the Valley. There was no loss of civilian life apart from those targeted mercilessly by militants", the statement reads.
"In the last year, Lt Gen DP Pandey improved Citizen-Army connect through his regular interactions with the common citizens, social and religious leaders and policy makers. His connect with youth can be gauged by the enthusiasm showered by the youth during social, musical and sports events. The GOC's free and candid interactions with the locals be it on the streets of Shopian on Diwali eve, or at Qazigund railway station & on several other occasions, won him many warm relations. He even reached out to the family members of terrorists and engaged them for return of the youth who have joined militant outfits. Even during encounters, under his directions, the Security Forces gave all opportunity to the militants to surrender", maintains the statement.
"The citizens with his support have found voice to call out the 'White-collar terrorist nexus', who have been sustaining militancy under the tutelage of Pakistan deep state."
"Under his leadership, successes in the Valley and moral ascendancy at the LC were achieved, furthering the aim of peace and stability last one year. The peace and welfare of the citizens of Kashmir has always been top priority, wherein assistance to locals, especially during adverse weather conditions, has been specifically applauded", the statement concludes.