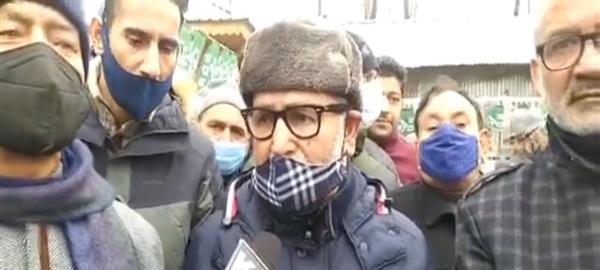 Bijbehara, Jan 07: Peoples Democratic Party (PDP) leader and former minister, Nayeem Akhtar on Friday said that government is afraid of genuine political activities and that is why they are not allowing PDP to hold programs.
On the sidelines of prayer meet of late Mufti Syed's graveyard in Bijbehara, Akhtar said that they don't know who are these self-centered people who are running the administration of Kashmir.
"People do not have the right to speak in this administration. People do not have the right to offer Fateh Khwani for their leaders. What is the government expecting from us? Do we have to behave like slaves? We are not their slaves, we are the citizens of J&K with full rights," he lamented and added that even in a dictatorship government, prayer meets are allowed for the deceased people.
He said that like every year they had come today for paying tributes to their leader Late Mufti Sahab but they were disallowed to do so and only after protest by Mehbooba Mufti, Fateh Khwani was allowed.
Akhtar said that these incidents are not demoralising them but the people, who are running the administration , should get demoralised by their failed tactics. "All their tactics have failed to oppress the people of Kashmir. Now the adminstartion is keeping an eye on the graves of our dead for disallowing Fateh Khwani. The government has put Kashmir into a disastrous situation but definitely we will come out of this."
Meanwhile, another party leader, Ghulam Nabi Lone Hanjura said that it is unfortunate that they were not allowed to hold Fateh Khwani today on the death anniversary of their leader Late Mufti Mohammad Syed.
"We had come here to offer Fateh Khwani for our leader along with party president Mehbooba Mufti and party workers for paying tributes to Late Mufti Syed but it is really unfortunate that despite permission by the authorities, the workers were not allowed for the prayer meet," he said. kns