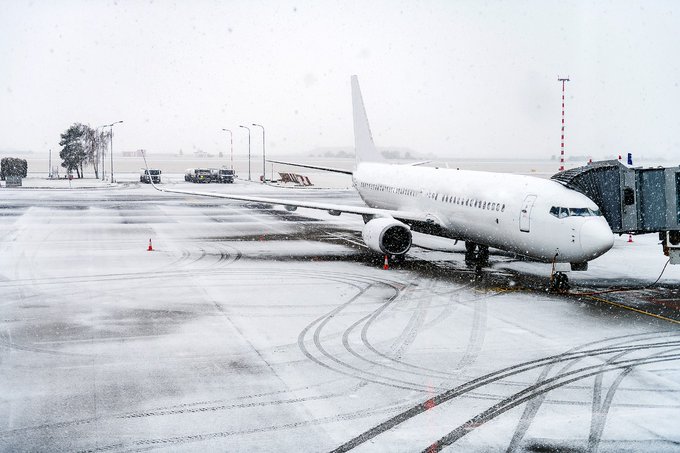 Srinagar, Jan 05: The inclement weather conditions in Kashmir for the second straight day on Wednesday has resulted in cancellation of 37 scheduled flights and also the closure of Srinagar-Jammu highway, the only road connecting the valley with rest of the States.
Director Srinagar Airport, Kuldeep Singh informed  that 42 flights were scheduled today at Srinagar international airport, adding that 37 out of 42 got cancelled due to the poor visibility. The cancelled flights include one international flight as well.
However, he said that five flights were operated today.
Moreover, at least 500 Heavy Motor Vehicles are stranded along the Srinagar-Jammu highway, which has been closed for vehicular movement after mudslides and shooting stones near Cafeteria morh and Chanderkote in Ramban district.
Several roads including Mughal Road, Srinagar-Sonamarg-Gumri and KIshtwar-Sinthan Road continued to remain closed for vehicular movement as a precautionary measure following the slippery conditions of the roads, triggered by the fresh snowfall.
The commuters scheduled to travel on the highway have been appealed to confirm the status of the road before undertaking the journey.
Traffic Police Jammu has, meanwhile, advised people especially having Light Motor Vehicles not to move on highway between Srinagar and Jammu.
It has also been informed that no Kashmir bound vehicle shall be allowed to move ahead of Nagrota till further clearance.
In an official statement issued by Traffic Police HQ Jammu, it has been stated that travel for Light Motor Vehicles on NH44 has become dangerous due to slippery road conditions and shooting stones.
"People are advised to restrict the movement of vehicles on Highway," Traffic Police said.  "Kashmir bound vehicles shall be stopped at Nagrota Jammu till further clearance from Traffic Control Unit, Ramban," it added.
Meanwhile, Kashmir parts continued to receive fresh snowfall, bringing down the temperature further in Jammu and Kashmir.
The world famous ski-resort, Gulmarg, Sonamarg, Pahalgam and others experienced fresh snowfall. The plains received rainfall for the second straight day.
MeT Office Predicts Another 'Heavy- Very Heavy Spell' On Jan 7-8 ;
Kashmir Valley received season's major snowfall on Wednesday with world famous Gulmarg recording a depth of nearly 3 feet, forcing closure of Jammu-Srinagar highway and cancellation of most flights at Srinagar International airport.
"Widespread rain/snow with heavy to very heavy over higher reaches occurred since yesterday," said a meteorological department official here said.
"Expect another (heavy to very heavy) spell during January 7-8th," he said, adding, "People are once again requested not to venture in avalanche prone area as our data shows that most avalanches are triggered during Intense heavy snowfall." He also urged people to follow traffic advisory and maintain proper ventilation of rooms.
He that weather will be "favourable" for flight operation on Thursday and Friday but no so on weekend when it has forecast heavy to very snowfall in Jammu and Kashmir.
Meanwhile, the official said Srinagar recorded rain and snowfall of 1 cm during the day till 5:30 hours today.
The summer capital of J&K, he said, recorded a low of 0.8°C against previous night's 0.6°C. It was 2.9°C above normal for this time of the year, he said.
Kashmir is presently under the grip of 40-day long harshest period of winter, known locally as 'Chillai Kalan, which started from December 21. It is followed by a 20-day long 'Chillai Khurd' and a 10-day-long 'Chilla Bachha'.
Gulmarg had 84 cm (nearly 3ft) of fresh snowfall during the time and the mercury settled at minus 4.0°C against minus 5.0°C on the previous night at the world famous resort, he said.
Qazigund, the gateway town of Kashmir, had 13cm of snow during the time while as it recorded a low of 0.8°C against 0.8°C on the previous night, he said.
Pahalgam, the famous resort in south Kashmir, had 37.1cm of snowfall and recorded a low of minus 0.4°C against minus 1.2°C on previous night, he said.
Kokernag, also in south Kashmir, had 7cm of rain or snow even as it recorded a low of 0.1°C against minus 0.4°C on previous night, the official said.
Kupwara town in north Kashmir, had 19.5 cm of snowfall and recorded a minimum of 0.0°C against 0.2°C on the previous night, the official said.
Reports reaching said that Bandipora-Gurez road remained closed amid fresh and continuing snowfall. Main Bandipora had 3.4 inches of snow, 2.0ft at Razdan top, 2ft at Tulail and 1.5ft at Dawar, they said.
Reports said that there was 1.5ft of snowfall recorded around Sonamarg in Ganderbal district.
Also Machil, Karna and Keran roads have been closed as higher reaches of Kupwara received 2.0ft snow.
Jammu recorded a low of 11.6°C, down by two notches from the precious night and normal of 7.3°C for the J&K's winter capital during this time of the year, he said.