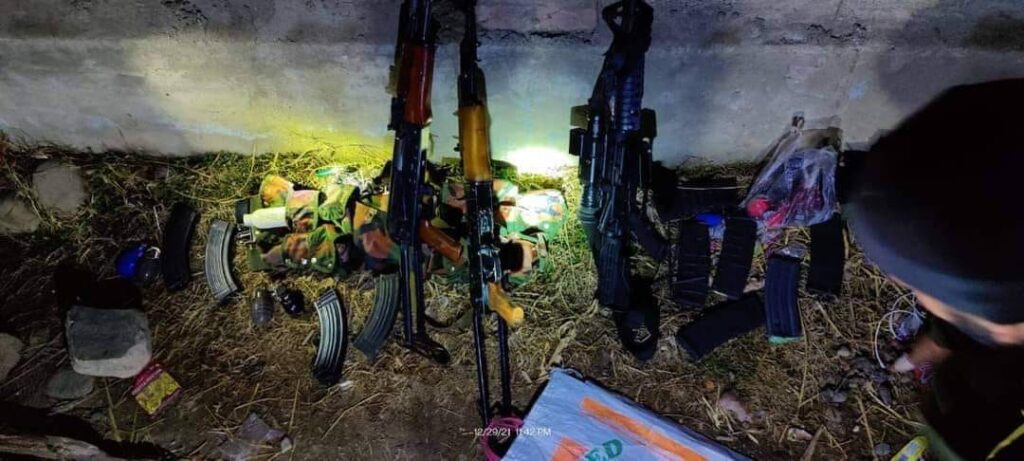 Srinagar, December 30: Three militants affliated with Jaish-i-Muhammad were killed in an overnight encounter with security forces in Doru area of South Kashmir's Anantnag on Thrusday, an official said.
A Senior Police officer said  that three militants of JeM were killed in a gunfight at Anantnag which started late evening on Wednesday. However identity of the militants is yet to be ascertained.
During the intial exchange of fire two army troopers and a cop were also injured, who were Shifted to hospital for advanced treatment.
Three JeM militants including a Pakistani militant were killed in a separate brief gunfight in Kulgam district.
Meanwhile Inspector General of Police Vijay Kumar according to official Twitter handle of Kashmir Police Zone wrote, " 6 militants of militant outfit JeM killed in two separate encounters. 4 among the killed militants have been identified so far as (2) Pakistani & (2) local militants. Identification of other 02 militants is being ascertained. A big success for us: IGP Kashmir,".
Police identifies slain militants
In a statement , the police said that on receipt of reliable information generated by Kulgam Police about the presence of militants in the village Mirhama ,Kulgam , on this Kulgam Police along with Army (9RR) and CRPF (18Bn) launched a joint Cordon and Search operation on intervening night of 29/30.
According to police spokesman, the house where the militants were trapped was cordoned in the said village and initially civilians were evacuated to the safer areas and an opportunity for surrender was given to the trapped militants, however the militants denied and opened indiscriminate fire upon the Security forces. Intermittent exchange of fire kept taking place in the encounter , later the three trapped militants were neutralised.
The killed militants have been identified as Mohammad Shafi Dar resident of Tral (JeM), Uzair Ahmad resident of Mirhama; both were C categorized militants of militant outfit JeM and one Foreign (Pakistani) militant Shahid@Shahzaid who was listed among top most wanted list of militants in J&K, they said.
Incriminating material including 02 AK47 and one M4 rifles along with Ammunition were recovered from the encounter site, the police said.
Regarding the incident, the police said case with FIR number 259/2021 under relevant sections of law has been registered at Police Station Kulgam and investigation has been initiated.
JeM Group Behind Attack On Police Bus Neutralized: IGP Kashmir
Inspector General of Police (IGP) Kashmir Vijay Kumar on Thursday claimed that the Jash-e-Mohammad militants group involved in attack on a police bus at Khrew area in city outskirts on Srinagar-Jammu highway fortnight ago has been neutralized in overnight encounters in south Kashmir districts.
Three policemen were killed and 14 others injured when militants carried out the attack on a bus of armed police with 25 personnel on board it on the evening of December 13.
Six JeM militants and a soldier were killed while two army men and a policemen were injured in the twin gunfights in Mirhama Kulgam and Dooru Anantnag.
"On December 13, there was attack on our police bus and I had shared with you then that jash-e-Mohammad carried out the attack. Entire security forces establishment would be happy to know that this was the group which carried out the attack in which three of our policemen were killed," Inspector General of Police, Kashmir Zone, Vijay Kumar told reporters here.
"The militants killed in operation include Suhail Ahmad Rather, Mufti Altaf, Illeyas alias Rayeez who was active in south Kashmir since 2017. We had pledged to neutralize this group before the end of this year," he told reporters while being flanked among others by top army and police officers.
"As far as December month is concerned, 28 militants have been killed and include 5 Pakistani militants. 2 M4 carbine and 15 Ak-47 rifles besides other war like store have been recovered," he said, adding, "This proofs Pakistan wants to continue violence.