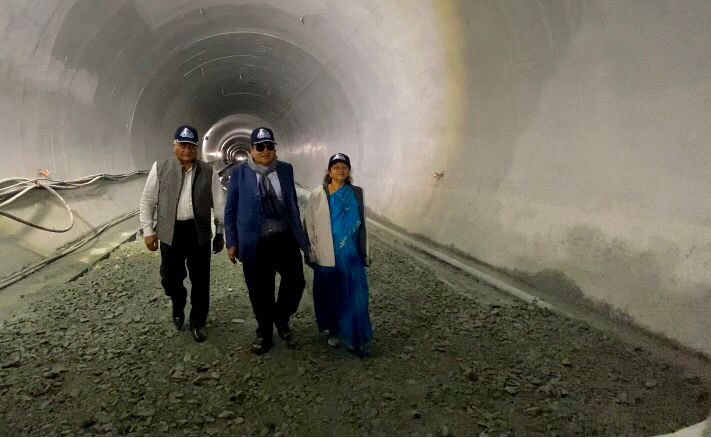 Srinagar, Dec 09: The Government of India Thursday informed the parliament that around 24 strategically important roads and tunnels are under upgrades executed by BRO with speedup construction for riding surfaces given the increase in tourism in the union territory of Ladakh.
The Ministry of Road Transport and Highway (RT&H) Ministry was replying to the queries raised in the ongoing parliament session on Thursday including the inefficient transport system in Ladakh especially in border areas and the steps taken to ensure all-weather road connectivity.
Union Minister Nitin Gadkari responded to the queries in the parliament stating that at least 24 roads and tunnels are under up-gradation in the Ladakh union territory while some tunnels are also being planned and the DPRs are under progress.
In a written reply to the parliament, he stated that most of the road infrastructure in Ladakh has been developed by BRO as per strategic importance over a period of time.
"Due to increase in tourism in the region, vehicular traffic has increased manifold rendering certain roads not capable of taking on the increased traffic," the Minister said.
Gadkari said to overcome the problem roads and tunnels are under upgradation to NHDL/NHSL specifications from existing Cl-9/Cl-5 specifications.
The minister named 24 roads which are under upgradation in the region.
The Minister said that BRO has undertaken many new initiatives to speed up road construction.
"BRO has taken in hand execution of surfacing works with cementitious base/sub base in eastern Ladakh", the Minister said. "BRO has constructed a 1400 ft span Permanent Bridge using micro piling in substructure at an altitude of 14500 ft in 17 working months."
He said that in addition Geo-Web and Geo-Cell are being used extensively for surfacing and permanent works.
The Minister said that many initiatives have been taken to meet the challenges of developing long-lasting and low-maintenance roads to border areas of Ladakh to ensure connectivity around the year.
He maintained that interlocking blocks are being used in mountain passes to provide a good riding surface in all weather adding that geo cells are also being used in surfacing in various stretches.
"Tunnels like Tanglanla, Shinkunla, Lachungla are also being planned to further improve the connectivity in the region for which DPRs are under progress," the Minister said.