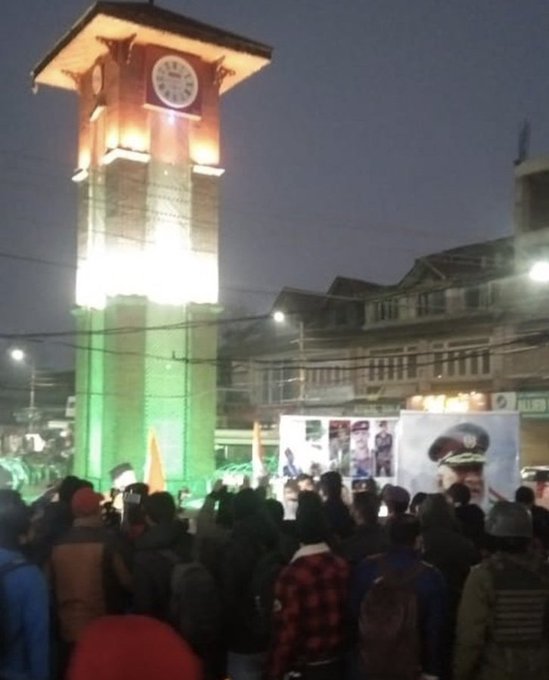 Srinagar, Dec 09: Two senior officers from the Kashmir's security grid—General officer Commanding of Srinagar-based army's 15 Corps Lieutenant General D P Pandey and Inspector General of Police (IGP) Kashmir Vijay Kumar Thursday paid rich tributes to Chief of Defence Staff (CDS) General Bipin Rawat, his wife and 11 other senior army officers who died in chopper crash in Tamil Nadu on Wednesday.
The two officers reached famous Clock Tower (Ghanta Ghar) at Lal Chowk, the heart of Srinagar to pay tributes to CDS, his wife and 11 other army officers, who died in a chopper crash at Tamil Nadu.
Talking to reporters, Lt Gen Pandey said that the death of CDS was a big loss, rather a national loss as evident by the fact that entire country is in a state of shock and mourning. "Condolences are pouring in from across the world. This shows the how popular General Rawat was," GoC Pandey said and paid rich tributes to CDS, his wife and other 11 army officers. He said that General Rawat had a great connect with the people of Kashmir especially those in Baramulla where he had served as sector commander. "He would often tell me over phone to get the issues of people who would reach him though phones and wats app etc from Kashmir, redressed," the GoC said.
Speaking on the occasion, IGP Kashmir Vijay Kumar said that General Rawat was a role model for him. "I met him when I was SSP Kupwara and after that I met him in so many informal meetings. He would often guide me and discuss things in a positive manner. His death is a big jolt for entire security grid. We will follow his foot-steps and fulfil his dream," the IGP said.