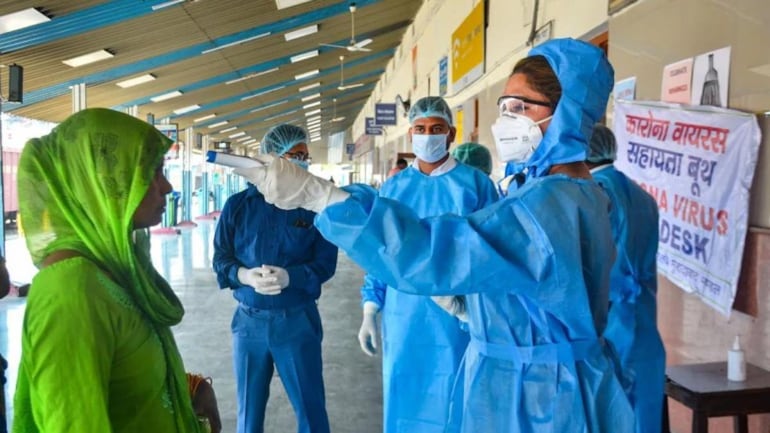 Srinagar, Dec 01: Jammu and Kashmir Wednesday witnessed one death and 234 fresh positive cases taking the number of total active cases in the Union Territory to 1,687.
With one more death, the death toll in the UT stands at 4,477 and 234 fresh positive cases reported on Wednesday have pushed the tally of positive cases to 337,086.
Of the exact number of 337,086 cases, 211,922 are from Kashmir division and 125,164 from Jammu division.
Officials said that among 234 new cases, 118 belong to Kashmir division while as 116 are from Jammu division, adding that the total number of positive cases in Kashmir division have reached to 211,922 including 208,324 recoveries and 2,292 deaths while as total number of positive cases in Jammu division have reached to 125,164 including 122,598 recoveries and 2,185 deaths
The officials said that the total number of active cases in Jammu and Kashmir are 1,687 including 1,306 from Kashmir division and 381 from Jammu division.
With 171 more recoveries, the tally of total recoveries in Jammu and Kashmir has reached 330,922 which is 98.17 percent of the total cases.
"Cases tested positive in J&K include 63 from Srinagar, 28 from Baramulla, 03 from Budgam, 01 from Pulwama, 05 from Kupwara, 00 from Anantnag, 06 from Bandipora, 06 from Ganderbal, 06 from Kulgam and 00 from Shopian in Kashmir division while as 116 from Jammu division include 20 from Jammu, 02 from Udhampur, 02 from Rajouri, 01 from Doda, 00 from Kathua, 00 from Samba, 02 from Kishtwar, 01 from Poonch, 00 from Ramban and 88 from Reasi," officials disclosed.
Meanwhile, authorities on Wednesday said that no fresh cases of Mucormycosis popularly known as black fungus was reported in the UT and tally stands at 49.
As per officials figures, 77,360;positive cases including 867 deaths and 75,924 recoveries are from Srinagar, 25,459 including 288 deaths and 24,845 recoveries are from Baramulla, 24,199 including 23,876 recoveries and 211 deaths are from Budgam, 15,601 including 15,381 recoveries and 194 deaths are from Pulwama, 14,750 including 166 deaths and 14,510 recoveries are from Kupwara, 16,672 including 16,451 recoveries and 206 deaths are from Anantnag, 10,005 cases including 9,824 and 105 deaths are from Bandipora, 10,744 including 10,577 recoveries and 79 deaths are from Ganderbal, 11,518 including 11,384 recoveries and 117 deaths are from Kulgam and 5,614 including 5,552 recoveries and 59 deaths are from Shopian.
In Jammu division, 53,665 including 52,366  recoveries and 1,151 deaths are from Jammu district, 11,442 including 11,294 recoveries and 137 deaths are from Udhampur, 11,332 including 11,072 recoveries and 238 deaths are from Rajouri, 7,936 including 7,779 recoveries and 133 deaths are from Doda, 9,352 including 9,194 recoveries and 152 deaths are from Kathua, 7,164 including 7,042 recoveries and 120 deaths are from Samba, 4,835 including 4,778 recoveries and 44 deaths are from Kishtwar, 6,527 including 6,413 recoveries and 100 deaths are from Poonch, 6,057 including 5,987 recoveries and 67 deaths are from Ramban and 6,854 including 6,673 recoveries and 43 deaths are from Reasi.
As per the daily information bulletin 4,501,005 persons in Jammu and Kashmir are under observation while 6,703: persons have been kept under home quarantine besides that 1,687 persons are in isolation.
According to the bulletin, 4,059,109 persons have completed the surveillance period and 429,029 persons are under home surveillance besides that so far results of 17,688,686 samples are available. Out of 17,688,686 the number of samples tested negative stands at 17,351,600 while as 337,086 have tested positive, among them 1,687 persons are active, 330,923 persons have recovered and 4,477 persons have died.