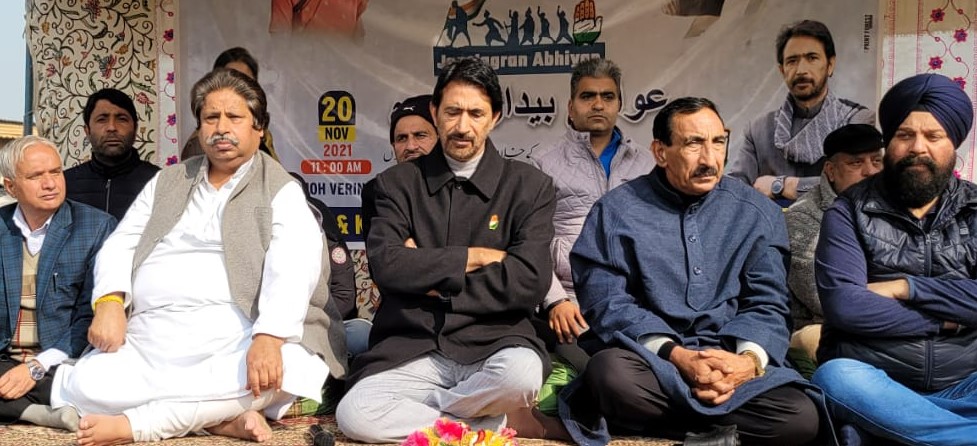 Budgam, Nov 28: The Jammu and Kashmir Pradesh Congress Committee (JKPCC) President Ghulam Ahmad Mir on Sunday asked the Centre to restore the dignity and honour of the J&K by granting Statehood, besides restoring democratic rights to the people of J&K.
Mir also termed the Congress party only unifying force capable enough to defeat maneuvering to divide people on the basis of their region or religion aiming to gain political mileage on the part of BJP.
JKPCC President Ghulam Ahmad Mir made these comments while addressing a largely attended party workers convention at Wachoo (Sukhannag) in Khansaheb area of Budgam District, which was part of Party's Jan Jagran Abhiyaan, an initiative of the Congress to highlight the wrong policies of the Centre towards people.
Senior party leaders, former legislators included JKPCC Vice President Haji Abdul Rashid Dar, Bashir Ahmad Magrey, Gulzar Ahmad Wani, DCC Presidents Abdul Gani Khan, Umer Jaan, Firdous Nabi, Bilal Ahmad Khan, Showket Ahmad Malik, Aneesa Gul, Kadfeen Chowdhary, Asif Beigh and other also addressed the convention.
Mir said that efforts to weaken the Congress Party will be thwarted while terming it(Congress) a true representative of the people credited of having rendered remarkable service to the Nation during 75 years post independence.
The party was committed to fight against the injustice, discrimination and biased attitude of the BJP Govt towards the grievances confronting people both in Kashmir as well as in Jammu, who were suffering equally on every count, Mir said.
The aim of the Jan Jagran Abhiyaan launched by the Party across the country was an initiative to reach out to people and highlight their issues for their resolution, Congress Party will continue to work in that direction to ensure that BJP Govt at Centre comes to the terms and deliver justice, which it has prmised to people, Ghulam Ahmad Mir added.
On this occasion JKPCC President urged the people to rise to the occasion to support congress party in its endeavor to ensure that their problems and issues such as unemployment, developmental, economical, security and various other issues are addressed, besides ensuring equal treatment to every section living in J&K.
JKPCC President expressed anguish over the way BJP Govt was treating people of Jammu and Kashmir and said people were feeling disappointed over the deteriorating security situation, lack of development, rising unemployment and other multiple issues concerning people while slamming the Centre Govt for failing to deliver after making tall claims and promises on account of good governance, employment, developmental etc. The blatnt lies and political explitation of the people will no longer benefit the BJP, for the fact, people have realized what they achieved during BJP's seven year rule.
Mir said Congress Party has the history of 136 years of service to the people, it has witnessed many ups and downs, but despite that party stood against all odds and obstacles and was capable enough to face whatever situation comes its way. Though the BJP was apparently hell bent upon to weaken the Congress Party aiming to suppress the dissent, for that matter, party workers, leaders and people of J&K must rise to the occasion to defeat such designs, Mir told the party workers.
JKPCC President also slammed the BJP's misadventures and many unilateral decisions with regard J&K and urged the people to gear up to respond to it heavily for downgrading full-ledged state into two union territories, besides enacting many unwanted ordinances and laws, from time to time, against the wishes of people, reiterating that Congress Party would vigorously fight to bring back Statehood with other constitutional guarantees.
Mentioning that people of J&K were witnessing ugliest situation on every count, Ghulam Ahmad Mir questioned the delay in holding assembly elections and granting Statehood to J&K as promised by the Centre in Parliament and asked it (Govt) to fullfill its promise rather than making U-Turns and misadventures aiming to gain political mileage, which the BJP has been doing since it assumed power, but the people have realized that they were being exploitated and used for electoral gains on the part of saffron party while having decided to defeat its (BJP) designs.
Haji Abdul Rashid Dar, Bashir Ahmad Magrey and Gulzar Ahmd wani while addressing the convention, urged the the people to join Congress Party in the fight against political exploitation and betrayal on the part of BJP and others. Congress Party was committed to fight and it will continue to do so for the betterment and wellbeing of the people.
On this occasion JKPCC President led the impressive road show in which hundreds of people participated amid chanting slogan Indian National Congress Zindabad.
On this occasion scores of prominent political and social activists joined Congress party and vowed work for the people of J&K. kns