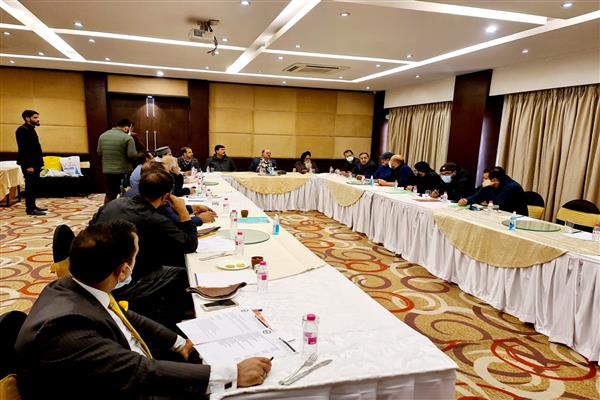 Srinagar, Nov 26: Jammu and Kashmir Hoteliers Club (J&KHC) on Friday urged the government to extend the land lease agreement of the hoteliers at Gulmarg, Pahalgam and Srinagar which is witnessing an overwhelming influx of tourists in the upcoming winter.
In an executive committee meeting held today here at Hotel Sarovar Portico, Chairman J&K Hoteliers Club Mushtaq A Chaya said Kashmir especially Gulmarg is receiving huge bookings of the travellers for Christmas, New Year and winter season which has raised the hopes of the travel industry.
Chaya said Government's successful promotional campaigns outside Jammu and Kashmir is bearing fruit however due to the non-extension of the land lease agreements, the hoteliers at Gulmarg, Pahalgam, and Srinagar are facing a lot of problems.
"We urge LG administration to extend the lease to the hoteliers at these prime tourist resorts so that they can pay full attention to the promotion of the sector," said Chaya.
He said hoteliers are at the forefront of tourism promotional campaigns which helps attract travellers in large numbers.
"The investment of the hoteliers is not only attracting travellers here but also helps various other economic sectors," said Chaya.
During the meeting, the hoteliers demanded amnesty in the power tariff to the hotels so that the amount can be utilised in upgrading services and promotional activities.
"Tourism industry was also given industrial status but the power tariff is not charged at par with the industrial sector. We are hopeful that government would charge hoteliers for various facilities as per the tariff applicable to the industrial sector."
On the occasion, Secretary-General J&KHC Tariq Rashid Ghani informed the members that Secretary Tourism Sarmad Hafeez has assured them that the renewal of hotel registrations would be completed on priority.
Most of the members of the Club drawn from various destination chapters turned up for the meeting.
On the occasion, the Hoteliers Club appointed veteran hotelier Narinder Singh as Chief Patron and also felicitated newly elected presidents of Sonmarg Chapter Farooq Hafiz and Gulmarg Chapter Mukhtar Ahmad.
It was the first Executive Committee meeting of the Jammu and Kashmir Hoteliers Club new elected body.
During the meeting, it was also resolved that the Club would start an aggressive promotional campaign in various parts of the country by organising roadshows and also by participation in the travel trade fairs.