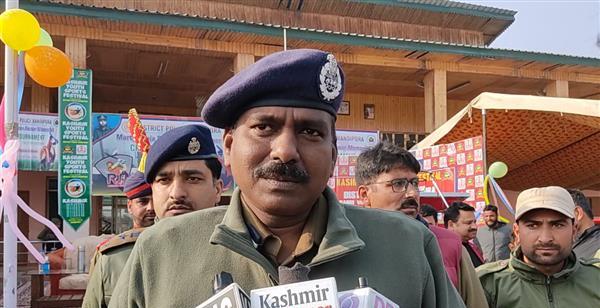 Bandipora, Nov 11: The Deputy Inspector General (DIG) of Police north Kashmir range, Uday Bhaskar Billa on Thursday stated that the Police along with other forces are on toes to guard the entire borders in north Kashmir.
Talking to reporters on the sidelines of a function at SK Sports Stadium Bandipora, DIG said that they are monitoring the situation very carefully in north Kashmir and no untoward incident will happen as the forces have been doing continuous vigilance. "Our forces are continuously following the movement of miltants and we will eliminate every element, who tries to disrupt the peace of Kashmir."
He said that they have made a full proof security system and utmost peace is prevailing in north Kashmir and at the same time they are on toes to guard the entire borders and will try to establish peace as far as possible.
Replying to a question regarding infiltration attempts, he said that security forces are continuously following the movement of militants and by God's grace will foil all their attempts.
He said that there are some militants active in north Kashmir but the confirmed figure of active militants cannot be estimated yet.
Meanwhile, regarding the sports tournament organized by JK Police in Bandipora, he said that the security forces organize sports tournaments to give a boost to the sports in the Valley. "In order to bring back the peaceful atmosphere these sports prove beneficial and most of the youth support these events and take part with great enthusiasm and zeal."
He said that many teams had participated in the sports events and today one team won the title. "Life is all about winning and losing, but at the same time the sportsman spirit continues. By these tournaments Police is trying to establish peace in the Valley," he added.
He said that they are delighted to see such immense support from the people, while the motive behind these programs is to give a message of peace to the people of the Valley. kns