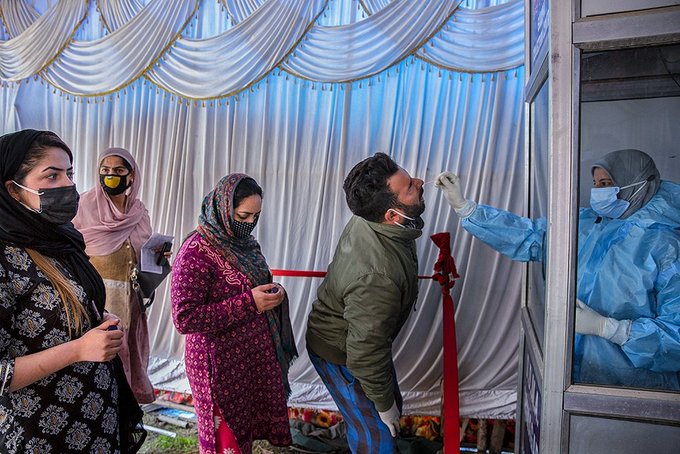 Srinagar, Nov 10: Jammu and Kashmir Wednesday witnessed three deaths and 165 fresh positive cases taking the number of total active cases in the Union Territory to 1,230.
With three more deaths, the death toll in the UT has reached 4,448 and 165 fresh positive cases reported on Wednesday have pushed the tally of positive cases to 333,490.
Of the exact number of 333,490 cases, 208,992 are from Kashmir division and 124,498 from Jammu division. Officials said that among 165 new cases, 147 belong to Kashmir division while as 18 are from Jammu division, adding that the total number of positive cases in Kashmir division have reached to 208,992 including 205,647 recoveries and 2,270 deaths while as total number of positive cases in Jammu division have reached to 124,498 including 122,165 recoveries and 2,178 deaths.
The officials said that the total number of active cases in Jammu and Kashmir are 1,230 including 1,075 from Kashmir division and 155 from Jammu division.
With 131 more recoveries, the tally of total recoveries in Jammu and Kashmir has reached 327,812 which is 98.30 percent of the total cases.
"Cases tested positive in J&K include 68 from Srinagar, 30 from Baramulla, 17 from Budgam, 01 from Pulwama, 07 from Kupwara, 00 from Anantnag, 09 from Bandipora, 15 from Ganderbal, 00 from Kulgam and 00 from Shopian in Kashmir division while as 18 from Jammu division include 09 from Jammu, 00 from Udhampur, 02 from Rajouri, 02 from Doda, 00 from Kathua, 01 from Samba, 00 from Kishtwar, 03 from Poonch, 00 from Ramban and 01 from Reasi," officials disclosed.
Meanwhile, authorities on Wednesday that no fresh cases of Mucormycosis popularly known as black fungus was reported in the UT and tally stands at 49.
As per officials figures, 76,121 positive cases including 855 deaths and 74,678 recoveries are from Srinagar, 24,775 including 283 deaths and 24,318 recoveries are from Baramulla, 23,946 including 23,635 recoveries and 209 deaths are from Budgam, 15,523 including 15,318 recoveries and 194 deaths are from Pulwama, 14,516 including 166 deaths and 14,307 recoveries are from Kupwara, 16,613 including 16,401 recoveries and 205 deaths are from Anantnag, 9,865 cases including 9,718 and 103 deaths are from Bandipora, 10,532 including 10,351 recoveries and 79 deaths are from Ganderbal, 11,492 including 11,372 recoveries and 117 deaths are from Kulgam and 5,609 including 5,549 recoveries and 59 deaths are from Shopian.
In Jammu division, 53,395 including 52,177 recoveries and 1,147 deaths are from Jammu district, 11,420 including 11,281 recoveries and 137 deaths are from Udhampur, 11,284 including 11,040 recoveries and 237 deaths are from Rajouri, 7,888 including 7,736 recoveries and 133 deaths are from Doda, 9,336 including 9,178 recoveries and 152 deaths are from Kathua, 7,157 including 7,032 recoveries and 120 deaths are from Samba, 4,820 including 4,776 recoveries and 44 deaths are from Kishtwar, 6,495 including 6,384 recoveries and 98 deaths are from Poonch, 6,047 including 5,977 recoveries and 67 deaths are from Ramban and 6,656 including 6,584 recoveries and 43 deaths are from Reasi.
As per the daily information bulletin 3,991,936 persons in Jammu and Kashmir are under observation while 5,309 persons have been kept under home quarantine besides that 1,230 persons are in isolation.
According to the bulletin, 3,541,964 persons have completed the surveillance period and 438,985 persons are under home surveillance besides that so far results of 16,610,321 samples are available. Out of 16,610,321 the number of samples tested negative stands at 16,276,831 while as 333,490 have tested positive, among them 1,230 persons are active, 327,812 persons have recovered and 4,448 persons have died.