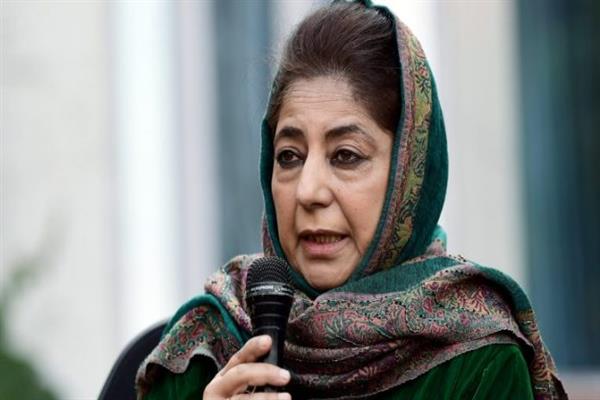 Srinagar, Oct 30: People's Democratic Party President Mehbooba Mufti on Saturday stated that patriotism cannot be imposed on anyone through power and oppression. It cannot be developed through force.
Talking to reporters here at Anantnag, Mehbooba Mufti said that, Government is not able to understand that force and oppression wont do anything fruitful to the nation.
Nobody can be made a patriot on the power of a stick. Patriotism needs compassion and tenderness so as to win the hearts of people of valley.
Game is a game. The students who are studying in Agra might have their own choices of players. It doesn't mean they have to get punished for cheering neighbouring country's team. Government should refrain from this policy of force as this will create more alienation between the centre and the people of valley, she added.
She said that, nobody can change anyone's choices and interests on gunpoint. It is absolutely disappointing. India being a democratic nation has given everyone the right to liberty of choices. So, the government should not create such an atmosphere where everyone feels fear of expressing their choices.
The PDP workers today staged a protest for the revoking of charges against three Kashmiri students at Agra but they were prevented from doing so. Nobody was allowed to protest peacefully by the forces. Is this what they call democracy?, she questioned.
"I have written a letter to Prime Minister Narendra modi and I have asked him to think about the future of youth of valley. I have requested him to revoke the charges against the three students in Agra. I hope he will intervene and release them soon", she said. kns