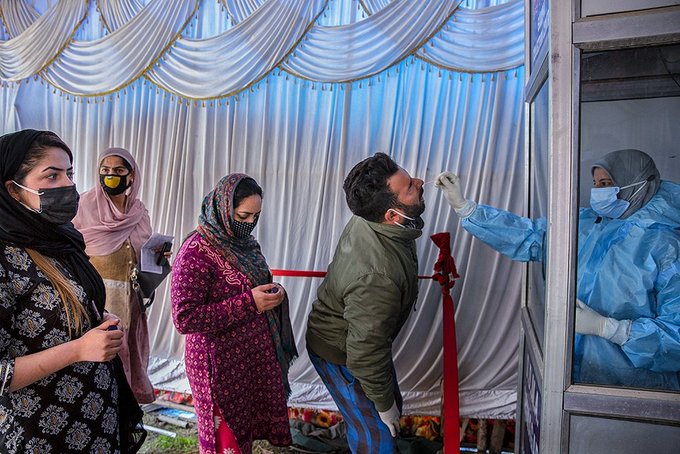 Srinagar, Oct 27: Jammu and Kashmir Wednesday witnessed 70 fresh positive cases taking the number of total active cases in the Union Territory to 838, while no death was reported in the last 24 hours.
With no more deaths, the death toll in the UT stands at 4,431 and 70 fresh positive cases reported on Wednesday have pushed the tally of positive cases to 331,865.
Of the exact number of 331,865 cases, 207,567 are from Kashmir division and 124,298 from Jammu division. Officials said that among 70 new cases, 64 belong to Kashmir division while as 06 are from Jammu division, adding that the total number of positive cases in Kashmir division have reached to 207,567 including 204,595 recoveries and 2,255 deaths while as total number of positive cases in Jammu division have reached to 124,298 including 122,001 recoveries and 2,176 deaths.
The officials said that the total number of active cases in Jammu and Kashmir are 838 including 717 from Kashmir division and 121 from Jammu division.
With 86 more recoveries, the tally of total recoveries in Jammu and Kashmir has reached 326,596 which is 98.41 percent of the total cases.
"Cases tested positive in J&K include 49 from Srinagar, 03 from Baramulla, 03 from Budgam, 00 from Pulwama, 04 from Kupwara, 00 from Anantnag, 02 from Bandipora, 03 from Ganderbal, 00 from Kulgam and 00 from Shopian in Kashmir division while as 06 from Jammu division include 02 from Jammu, 00 from Udhampur, 00 from Rajouri, 02 from Doda, 00 from Kathua, 00 from Samba, 01 from Kishtwar, 00 from Poonch, 00 from Ramban and 01 from Reasi," officials disclosed.
Meanwhile, authorities on Wednesday said that no fresh cases of Mucormycosis popularly known as black fungus was reported in the UT and tally stands at 49.
As per officials figures, 75,350 positive cases including 845 deaths and 74,077 recoveries are from Srinagar, 24,548 including 282 deaths and 24,148 recoveries are from Baramulla, 23,804 including 23,520 recoveries and 207 deaths are from Budgam, 15,507 including 15,306 recoveries and 194 deaths are from Pulwama, 14,447 including 166 deaths and 14,255 recoveries are from Kupwara, 16,594 including 16,373 recoveries and 205 deaths are from Anantnag, 9,808 cases including 9,689 and 102 deaths are from Bandipora, 10,414 including 10,305 recoveries and 79 deaths are from Ganderbal, 11,488 including 11,363 recoveries and 117 deaths are from Kulgam and 5,607 including 5,549 recoveries and 58 deaths are from Shopian.
In Jammu division, 53,312 including 52,120 recoveries and 1,145 deaths are from Jammu district, 11,413 including 11,273 recoveries and 137 deaths are from Udhampur, 11,271 including 11,028 recoveries and 237 deaths are from Rajouri, 7,858 including 7,690 recoveries and 133 deaths are from Doda, 9,327 including 9,172 recoveries and 152 deaths are from Kathua, 7,152 including 7,032 recoveries and 120 deaths are from Samba, 4,819 including 4,773 recoveries and 44 deaths are from Kishtwar, 6,481 including 6,371 recoveries and 98 deaths are from Poonch, 6,040 including 5,971 recoveries and 67 deaths are from Ramban and 6,625 including 6,571 recoveries and 43 deaths are from Reasi.
As per the daily information bulletin 3,757,831 persons in Jammu and Kashmir are under observation while 6,612 persons have been kept under home quarantine besides that 838 persons are in isolation.
According to the bulletin, 3,296,265 persons have completed the surveillance period and 449,685 persons are under home surveillance besides that so far results of 16,045,284 samples are available. Out of 16,045,284 the number of samples tested negative stands at 15,713,419 while as 331,865 have tested positive, among them 838 persons are active, 326,596 persons have recovered and 4,431 persons have died.