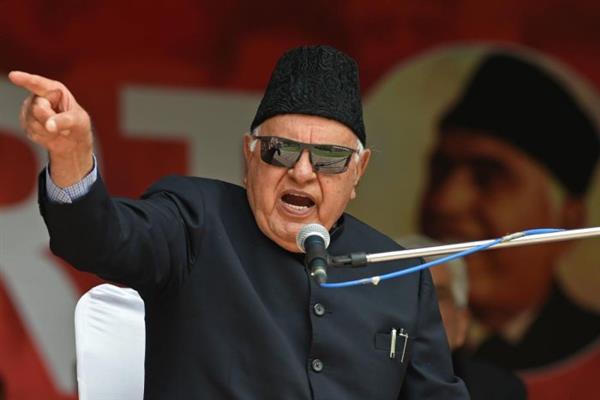 Jammu, Oct 21: Member of Parliament and National Conference (NC) President Farooq Abdullah Thursday said that Bharatiya Janata Party (BJP) and RSS have been working to win elections by spreading hatred.
Abdullah was addressing party workers at Sher-e-Kashmir Bhawan. It was NC's first such grand meeting in Jammu after the resignation of provincial president Devendra Singh Rana and former minister and party's secretary Surjit Singh Salathia. Both joined the BJP.
"Efforts are made to destroy peace in the name of Hindu-Muslim. Hatred is being spread in Jammu even regarding the UP elections," he said.
Without mentioning Devendra Singh Rana, Abdullah said that, "those raising Jammu-Jammu are actually befooling the people."
"People are wise enough to understand why people switch over and which benefits they are seeking," he said.
Abdullah said that spreading hatred will only weaken the country, and peace can be brought in Jammu and Kashmir only by making dialogue and friendship with Pakistan.
He also challenged former Jammu and Kashmir Governor Satya Pal Malik on statement over Roshni act and asked him to prove the allegations against him.
"Stop lying Malik. Roshni scheme was started to build power projects in Jammu and Kashmir and the projects have also been made from the amount received under it," he said adding that the aim of the Roshni scheme was to illuminate the homes of all the people of Jammu and Kashmir so that no child have to read under lamp.
"We have to build nine power projects. At that time Atal Bihari Vajpayee was the Prime Minister and Kumar Mangalam the Power Minister," Abdullah said.
"We briefed Kumar Mangalam about the project. The Union Minister said that if you (state) make two projects, we will make seven for you. When we recover the cost of seven projects, we will also hand it over to you. We signed MoUs and built two projects, Sawalakot and Baglihar both on our own. Today both are working," he said.
Abdullah said that even then the lie was spread that the J&K government did not work and ate money.
"But then Finance Minister Yashwant Sinha came here and when he saw the work," he said. "Lies are being spread all over the country including Jammu and Kashmir." kno