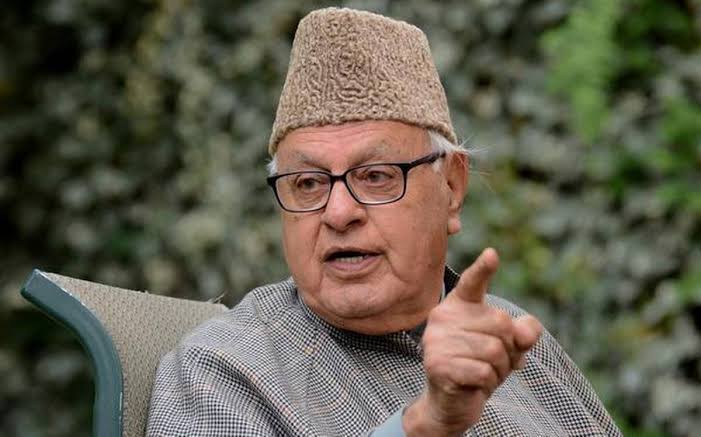 Srinagar, Oct 16: National Conference president, Dr Farooq Abdullah on Saturday said that no threats and money should diverge the leaders of political parties from their responsibility of working for the people. 
Addressing party workers here, he said that threats and money shouldn't change the obligations of the political workers who work solely for the people's welfare.
"The workers and leaders who have faith in the leadership of National conference should come forward to work hand in hand with the party irrespective of their inter-party positions."
He said that the workers and leaders of National Conference have worked hard to ensure that the party leadership wont get dissolved. "For a political process to begin, there is a necessity that elections should be conducted so that popular government would be reestablished in the valley."
Dr Farooq said that popular governance in the valley can better understand the issues and concerns of the people irrespective of the baseless claims of autocratic governance.
lIn today's times there is no place for determination in politics. If a person cannot contest elections, there seems to begin a process of resigning and joining other political parties. These things happen in politics which should be dealt with utmost patience. The sole aim of any leader who works for people should be only to gain the trust of people instead of considering only his individual politics," said Abdullah.
He said that if a worker has faith in National Conference that only NC is willing to give the people of the valley the dignity and rights they are demanding.
He observed that nowadays workers are being threatened and bribed for changing their political narratives. "The workers who have faith in our party should remain with the party at all circumstances, no matter what comes."
Abdullah said that the people of the valley say that National Conference is not only a political party but it is a movement. "The party lives in the hearts of the people. No one can change this place."
He said that the National Conference will always work for the people who have full faith in it and will continue to safeguard the rights and dignity of the people of the Valley. kns