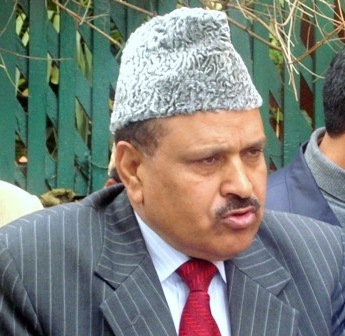 Srinagar, Oct 10: Senior Vice President Peoples Conference and former minister Abdul Gani Vakil today said that Lieutenant Governor led administration has completely failed to ensure the security of the people of Jammu and Kashmir and politicians too belonging to mainstream parties are not safe as their security had been withdrawn at the time of abrogation of article 370 and has not been restored till today.
No doubt selective security has been provided to leaders of some parties but security of most of the politicians has not been restored. with the result political activities are hampered and moments are restricted.
Vakil in a statement said the spate of killings of civilians is a barbaric act and strongly condemnable and who so ever is involved should brought to the book without delay but it should not be looked through the prison of religion but a failure of LG administration who virtually have failed on all fronts whether it is development issue or security scenario everything has worsened in Kashmir valley it looks that we are going back to 90's.
It is unfortunate that instead of winning the hearts of the people the LG adminstration have added to the miseries of the people by harrassing them especially youth in view of the proposed visit of Home Minister Amit Shah to J&K, hundreds of youth have been arrested. "We fail to understand why the youth are harassed if security agencies fail to do their job effectively. What is the point in harassing youth in this or that name," Vakil added
Time demands that the elections in J&K should be held as early as possible to elect popular government so that people can feel a sigh of relief and their grievances can be addressed seriously by the elected representatives as the people are fed up by the present dispensation which has totally failed to deliver on all fronts.
Vakil said delaying the elections in J&K exposes the current regime in New Delhi who have created an autocratic system within a democracy. "When we talk of democracy we need to encourage democratic set up not to make a one man show". kns