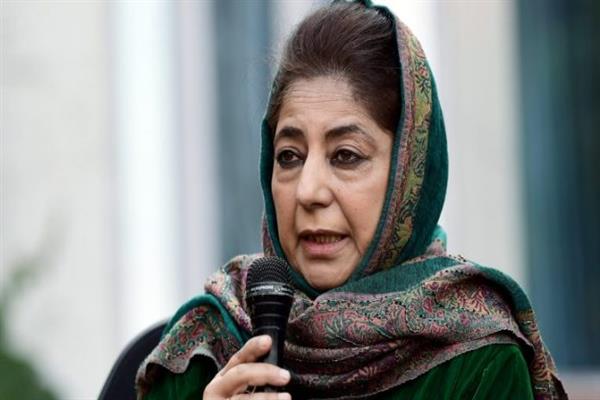 Srinagar, Oct 09: The People's Democratic Party president and former Chief Minister, Mehbooba Mufti was on Saturday not allowed to visit Larnoo village of Kokernag to condole with the family of slain tribal youth who was killed by the Central reserve police force on Thursday night. 
While taking to Twitter, she said, "Under house arrest for the umpteenth time today. Wanted to visit the family of the innocent civilian shot dead by CRPF. GOI wants us to selectively condemn killings. They are outraged only in cases where hate politics can be lapped up to polarise people".
"The situation in J&K has gone from bad to worse," she said adding my fears are compounded by the fact that instead of course correction, GOI will continue its muscular policy to reap political dividends in elections. Case in point being the upcoming UP polls."
Mehbooba was scheduled to visit Larnoo, Kokernag today to condole with slain youth's family, however, the administration at the last minute disallowed her to visit the victims family.
Notably, the youth was allegedly killed in forces firing in Anantnag on Thursday night after CRPF opened fire at a vehicle that jumped the naka. (With inputs from kns)