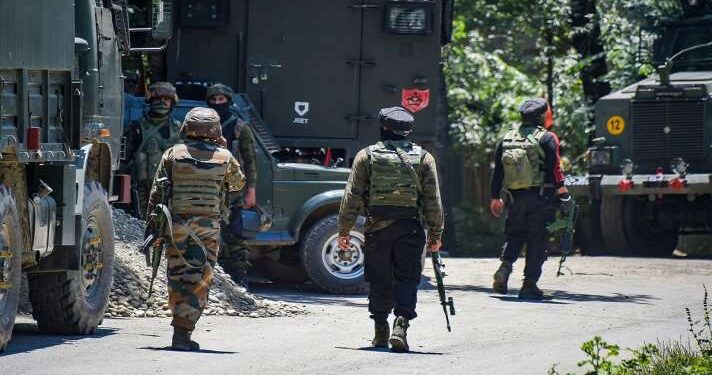 Shopian, October 01: A newly recruited militant was killed in an encounter in Rakhama village of Vehil hamlet in South Kashmir's Shopian district on Friday.
An officialsaid hat based on specific inputs a cordon and search operation was launched by a joint team of forces.
"It was found that a local militant was hiding there. He was repeatedly asked to surrender but he didn't accept the offer and opened fire which was retaliated in which he was killed," the official said.
He added that slain had joined militant ranks just 20 days ago. A police spokesman in a statement to KNO said that at about 5 am on Friday, based on a specific input generated by Police regarding presence of militant in village Rakhama area of Shopian, a joint cordon and search operation was launched by Police, 34RR and 178Bn CRPF in the area.
"During the search operation, as the presence of the militant got ascertained he was given the opportunity to surrender, instead he fired indiscriminately upon the joint search party, which was retaliated leading to an encounter," the police spokesman said.
"In the ensuing encounter, one militant identified as Mujeeb Lone son of Muhammad Amin Lone, a resident of Redwani Bala Kulgam was killed and his body was retrieved from the site of encounter."
The police spokesman said that the slain militant had joined the militancy recently and was linked with LeT. "Incriminating materials, arms & ammunition including one pistol, 01 magazine were also recovered from the site of encounter," the police spokesman said.
Meanwhile, a police official told KNO that this year so far, 113 militants have been killed in Kashmir. The figure includes those killed along the LoC who were trying to sneak into this side.
As per officials, July this year, was the deadliest month as 31 militants mainly from LeT were killed in the month alone. "Three militants were killed in January, followed by 5 in February, 11 in March, 17 in April, 11 in May, 11 in June, 31 militants in July, 16 in August and 8 in September," the officials said. kno