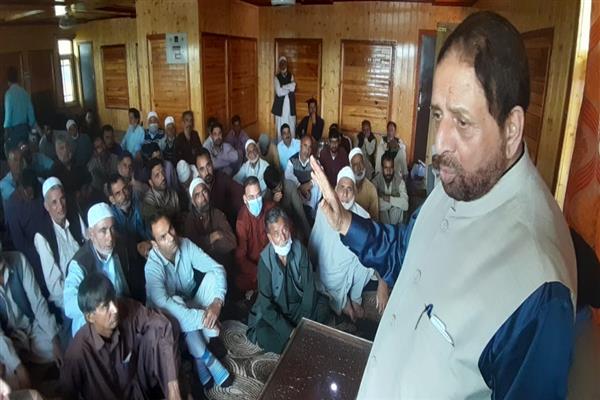 Budgam, Sep 25: People's Democratic Front (PDF) held a day long workers convention at Parnewa Khansahib in central district Budgam to take stock of the prevailing soci- political and developmental scenario in Jammu and Kashmir. 
The Convention was presided over by the Chairman PDF , Hakeem Yaseen.
Speaking on the occasion Hakeem Yaseen urged the center to take sincere and concrete steps to fulfill urges and aspirations of the people of Jammu and Kashmir. He urged for early restoration of all the Constitutional guarantees to the people of Jammu and Kashmir which have been usurped unilaterally and undemocratically on, 5th August 2019. He said need of the hour was to initiate sincere confidence building measures CBM to restore trust and confidence of the people of Jammu and Kashmir which has been shattered due to repeated betrayals from the successive central government's since last 70 years. "Restoration of the special status of Jammu and Kashmir and holding of early assembly elections was primarily necessary to win trust of the people," Hakeem Yaseen maintained adding that cosmetic measures like tours of union Ministers and hollow press statements about the welfare of Jammu and Kashmir were futile exercises.
Hakeem Yaseen also demanded execution of work on two mini hydle power projects at Nalla Sukhnag and Nalla Shaliganga adding that for unknown reasons previous governments stopped construction work on these power projects which are vital for the socio- economic transformation of this backward and Kandi belt of district Budgam. "DPR of both these power houses have been cleared by the expert committees since a decade ago and I have been repeatedly urging the previous governments to start work?" Hakeem Yaseen said while flaying successive governments for doing step motherly treatment with Khansahib area? He urged the Lieutenant Governor Manoj Sinha to start work on these power houses.
PDF Chairman also castigated government for neglecting development and promotion of Doodpathri, Yusmarg and Tosamaidan which are three virgin tourist destinatios of central district Budgam . These tourist destinations possess huge employment potential which needs to be exploited optimally for the benefit of common people especially for the local youth.
Hakeem Yaseen assured the people that ," he has dedicated his whole life in the service of the people of Jammu and Kashmir including Khansahib area. He asked workers of his party to reach out to the people to help them in solving thier day to day problems and hardships .He said that soci- economic and political transformation of Jammu and Kashmir was the mission of his life. He also asked them to be prepared for the assembly elections, as and when these are held, to defeat enemies of peace especially those political parties who have blocked development of Khansahib area during their regimes in past. We have to defeat our enemies politically through ballot," Hakeem Yaseen added.
Latter the convention passed political resolution for restoration of Constitutional guarantees including statehood to Jammu and Kashmir and holding of assembly elections at the earliest.