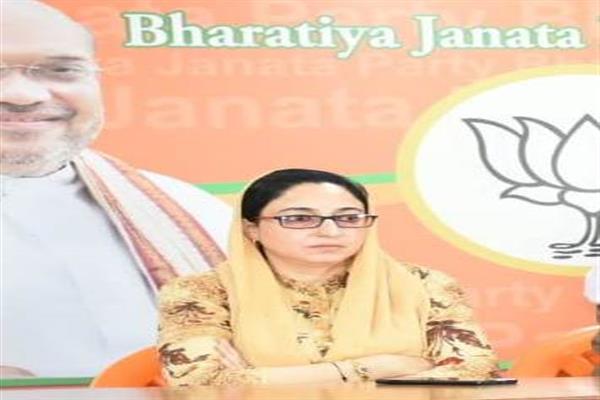 Srinagar, Sep 24: BJP spokesperson and chairperson of Waqf Development Committee of Ministry of Minority Affairs, Dr Darakhshan Andrabi on Friday said that the Muslims in India are no more exploited politically and their lives are transforming beyond imagination. 
She said that while addressing a press conference at Vijaywada in Andhra Pradesh. She was accompanied by State BJP leaders and BJP Minority Morcha representatives during the presser.
"BJP led government liberated Indian minorities from seven decade long sentimental exploitation throughout India and included them in all developmental & welfare programmes with the spirit of sabka saath, sabka vikas, sabka vishvas. Mere verbal appeasement of minorities especially Muslims for political gains for about seven decades left minorities far behind in all sectors of life but the politics of Prime Minister Modi deviated from this ailing minority approach and included them in all mainstream developmental processes and we are proud to see the results now after seven years only," she said.
She said that the irreligious practice of Triple Talaq was removed through much needed and demanded legislation by the parliament which restored the dignity of Muslim women in Indian society.
She said that now you can see Muslims of India are progressing like never before. "The welfare schemes of the Government of India have transformed the lives of all Indians including the very backward minority communities in India."
She said that special schemes for educational and economical empowerment of minorities by the Union Minority Affairs Ministry have paved new ways for Muslims in India to grow socially & economically.
"The exploiters of minorities in India are slowly losing their grip over the vote banks and which is why they are spreading false narratives about BJP among Muslims. Thankfully the majority in the community doesn't pay heed to these baseless narratives and only a handful of people with personal interests are actively selling rumors and falsehood. Minority transformation in India has taken place and we see a bright future of Muslims in World-leader-India in making," Andrabi said.
She said that Muslim majority of Jammu & Kashmir has come out of the darkness of separatism and despite the sponsorship of violence from across the border, people are proudly unfurling tri-colour in every part of the Union territory.
"Vision of a progressive, peaceful & inspiring J&K of PM Modi is taking shape under the capable administration of LG Manoj Sinha. India was, is and will remain an inclusive country and the communal divide by no political force can be allowed in India any more." (KNS)