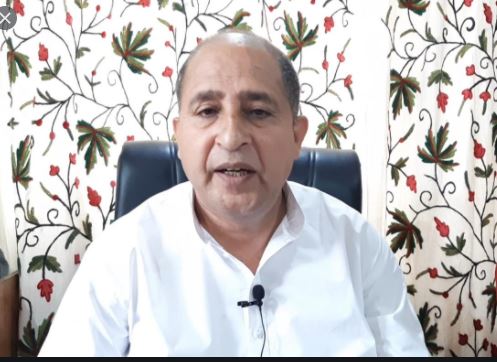 Srinagar, Sep 17: Janta Dal United Jammu and Kashmir unit president, GM Shaheen Friday said that every delegation that visits Kashmir comes at a cost as millions of funds are being spent on their visits, while development has come to a halt. 
Addressing a press conference at his Raj Bagh office, Shaheen said that every delegation from outside that visits Kashmir comes at a cost. "Millions are being spent on the visits of Parliamentarians and other dignitaries that has virtually drained the exchequer. No development is being taken place as roads are in shambles, and water shortage has added to the woes of common people," he said.
He said that in March this year Union Finance Minister Nirmala Sitaraman described the budget allocated for Jammu and Kashmir as historic one.
"Six months have passed and only 30% of funds have reached Jammu and Kashmir. Union Finance Minister had allocated a budget of over Rs one lakh crore. But 30% that has been sent to Jammu and Kashmir have been spent on salaries of employees and for the development of other sectors, while Crores are being spent over the visits of delegations," he said.
He said that a couple of hotels, where dignitaries and other VIPs and their staff stay, have earned crores of rupees. "All this money comes from the exchequer of Jammu and Kashmir."
Shaheen said that for the past three years, development has come to a halt. "Leave aside the construction of new hospitals, schools, colleges and universities, even an irrigation pump has not been installed. Nothing new happens on ground. Whatever is being inaugurated or talked about are the old developmental projects," he said.
"Can you give me a single example where the government constructed a new hospital?," Shaheen questioned.
He said people are badly suffering due to lack of development. "I recently visited a couple of areas in Srinagar where roads are in shambles. People have no access and even if they convey their problems to authorities, nothing changes on the ground. See the Ram Bagh-Mehjoor Nagar Padshahi Bagh road. Commuters are facing tough time. There are massive potholes. Mehjoor Nagar foot bridge has not been touched by the concerned department ever since it was damaged due to incessant rains," he said.
Meanwhile, he urged the LG administration to redress the problems of people without any delay. KNT