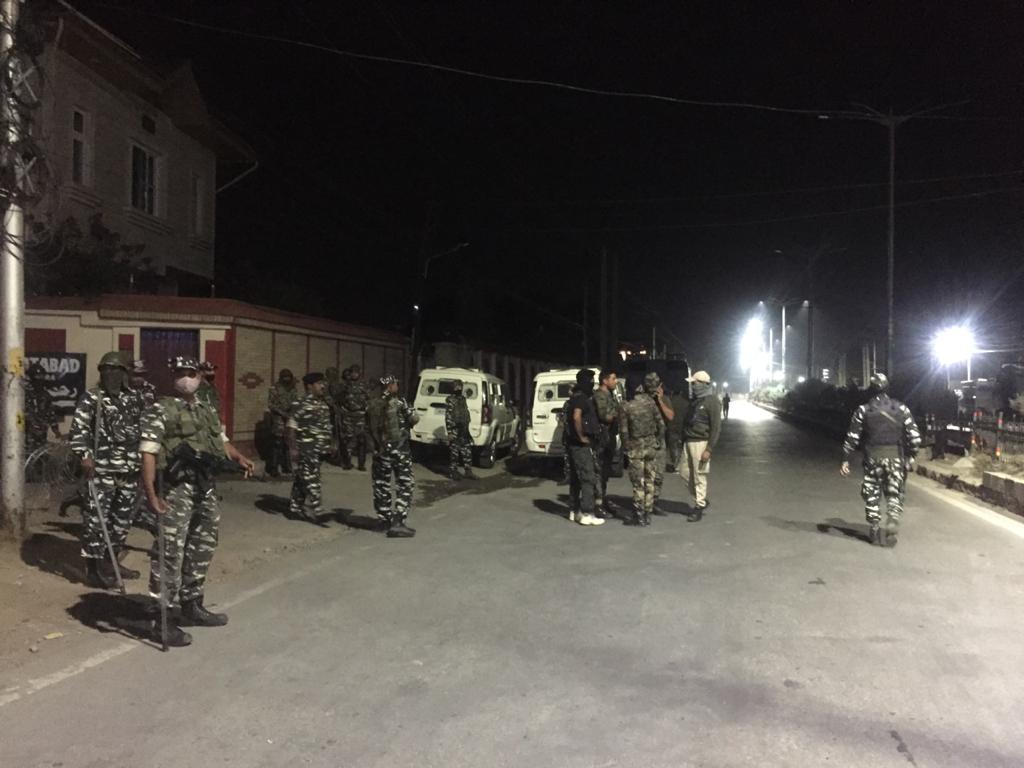 Srinagar, Sep 02: The senior separatist leader Syed Ali Geelani, who passed away on Wednesday evening at his Srinagar residence, was laid to rest in the dead of the night as Kashmir Thursday woke up to stringent curfew and communication blockade.
Geelani, 92, breathed his last after developing serious breathing issues at his Rehmatabad, Hyderpora, Srinagar residence Wednesday evening. Soon after the news of his death spread across Srinagar, senior officers of police and the CRPF rushed to Hyderpora and sealed his residence and ordered the deployment of large number of security forces to prevent law and order issue. The aged separatist leader was under house detention since 2008. His health started falling fast since past two years. Geelani had parted ways from the Hurriyat Conference last year.
A close relative of Geelani said that they had planned a funeral and burial of the aged separatist leader post Fajr (pre-dawn) prayers, but police scuttled their plan. "Policemen barged into our house at 3:30 am (Thursday) and snatched the body of Geelani sahib and buried him at a graveyard outside our house. We resisted and so did our women, but to no avail. Two sons of Geelani sahib couldn't attend the burial," alleged the relative of the deceased leader, wishing not to be quoted by name.
The allegations were, however, out-rightly refuted by the police. Inspector General of Police (IGP) Kashmir Vijay Kumar said that reported allegations against Police are baseless. "In fact, Police facilitated in bringing the body (of Geelani) from house to graveyard as there was apprehension that miscreants might take undue advantage of the situation. Relatives participated in last rites," he said.
Witnesses said that only a few relatives were present at the burial that too in presence of a large number of police and paramilitary CRPF personnel. "Geelani sahib was laid to rest in a local graveyard barely 300 meters away from his Hyderpora residence," they said.
After the silent burial of the veteran separatist leader, the authorities on early morning Thursday, snapped mobile communication and internet on all platforms. BSNL was the only tele-communication Company that allowed voice-calling on its network. People woke up to see stringent curfew in place. Witnesses said that early morning, a huge deployment of police and paramilitary personnel was made on Srinagar roads and all roads leading to Hyderpora were sealed while the downtown area of the city was put under strict curbs. "Rolls of concertina wires were placed on roads and no one was allowed to venture out," said Abdur Rahim Bhat, a resident of Nowhatta area of downtown. "This was for the first time after Article 370 revocation that such strict curbs were in place in Srinagar," he said.
Witnesses said that only vehicles that were supposed to reach Srinagar airport were allowed to proceed after thorough checking and questioning of passengers. A cab driver, who was ferrying two Delhi-bound passengers, said that today's restrictions were reminiscent of the one witnessed in Srinagar post Article 370 revocation. "I was stopped at multiple locations till I reached the airport," he said. "I faced difficulties in reaching the hotel where I was supposed to pick the two passengers as phones were not working." (KNO)