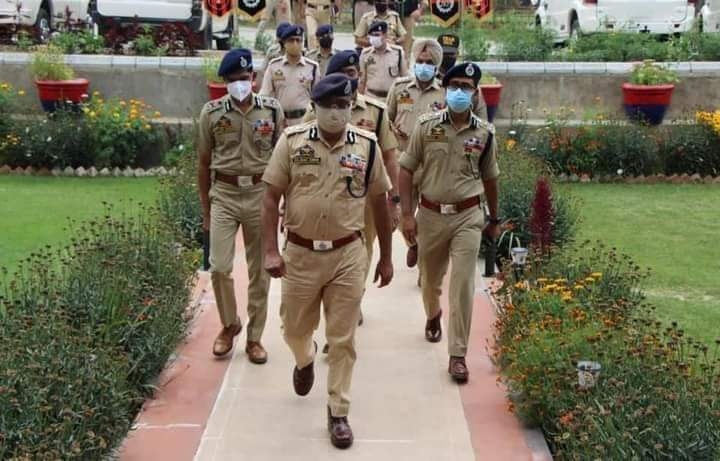 Srinagar, Sep 03: The Situation in J&K remained by and large peaceful and fully under control, because of people's cooperation and support in maintaining peace. This was stated by the Director General of Police, J&K, Shri Dilbag Singh while speaking to the media at Baramulla on the sidelines of his visit to North and South Kashmir.
The DGP today visited Baramulla, Sopore towns in North Kashmir Range and Anantnag, Pulwama in South Kashmir Range. He chaired joint meetings of officers wherein he took stock of general security scenarios, deployment & welfare measures of jawans in these districts. During his visit the DGP along with other senior officers visited old and main town Baramulla, Sopore, Anantnag & Pulwama.
He was accompanied by IGP Kashmir Shri Vijay Kumar, and IG CRPF Shri Deepak Ratan, during his visit. Addressing the joint officers' meetings, the DGP stressed for alertness and said that no room should be given to any anti-peace element to create any disturbance. He emphasized for elaborate security arrangements to avoid any untoward incident and directed for taking stern action against the rumor mongers. He directed that besides monitoring the law-and-order situation strict surveillance be maintained on the mischief mongers and over ground workers.
The DGP said that JKP along with other security forces has faced different situations during the last three decades to provide peaceful environment for the people. He stressed for strengthening relations with the people. He said that cooperation of the people with the forces has helped in maintaining peace and these relations should be strengthened at all levels to further consolidate the peace mission in J&K.
The DGP stressed upon the officers to ensure synergy at different levels to make the measures more fruitful. He said that the supervisory officers should regularly brief deployments in their respective areas to bring further improvement in the day-to-day functioning. He said that dedication, expertise and adoption of latest modern gadgets would bring improvements in public service.
The officers representing different forces and agencies put forth their suggestions for maintaining peace in the valley. They also apprised the DGP regarding the security measures put in place to meet the possible security challenges and ensure the safety and security of the people. Shri Singh along with the senior officers also visited various areas of these districts to take a first-hand appraisal of the deployments on ground.
Besides IGP Kashmir, IGP CRPF the meetings were attended by DIG NKR Shri Sujit Kumar, Sector Commander 7 RR Brig Vikrant Patil, DIG CRPF Baramulla Shri Aneesh Sirohi, DIG SKR Shri Abdul Jabbar, Sector commander 1 RR Brig Vijay Mahadevan Sector Commander 12  RR Brig N. S. Grewal, DIG CRPF SKR Shri N.S. Negi, DIG CRPF Anantnag Shri D. P. Upadhyay, district SsSP Baramulla, Sopore, Anantnag, Pulwama, Awantipora, Kulgam, Shopian Commandants of JK Armed/IRP & CRPF battalions deployed in these districts, and other gazetted jurisdictional officers.
Speaking to the media persons during his visit at Baramulla, the DGP J&K said that the security situation in Jammu and Kashmir has remained peaceful and is fully under control. There was no untoward incident during the last two days and for this he congratulated the people of J&K for their role and support in maintaining peace. He said that Pakistan and their agents are propagating their malicious designs on social media to disrupt prevailing peace here. He said that people here, especially youth are engaged in making their careers for better future and we are there to extend support to them.