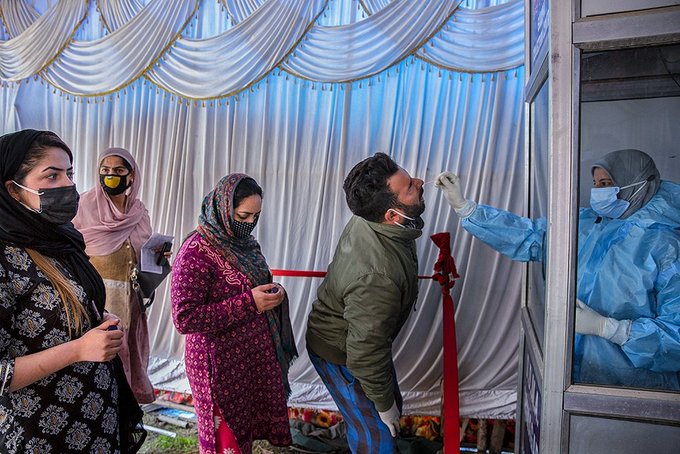 Srinagar, Aug 14: Jammu and Kashmir reported 135 fresh covid-19 cases even as there was no death due to the virus in the last 24 hours, officials said on Saturday.
They said 37 of the cases were reported from Jammu Division and 98 from Kashmir Valley, taking the infection tally to 323325 in J&K.
Providing the district-wise details, they said, Srinagar reported 35 cases, Baramulla 5, Budgam 6, Pulwama 9, Kupwara 10, Anantnag 8, Bandipora 11, Ganderbal 9, Kulgam 4, Shopian 1, Jammu 10, Udhampur 3, Rajouri 4, Doda 10, Kathua 0, Samba 1, Kishtwar 7, Poonch 2, Ramban 0 and Reasi 0.
A number of these cases were confirmed at diagnostic laboratory of CD hospital here.
The CD cases include female (60) from Pulwama, male (45) from Khansahib, female (32) from Kanikadal, female (24) from Bemina, two males (42, 11) from Baghat Srg, male (15) from Budshah Nagar Srg, two females (19, 55) from Batmaloo, male (61) from Safakadal Srg, male (60) from Rawalpora Srg, female (32) from Qamarwari Srg, female (50) from Khanyar, female (50) from Fatehkadal, female (33) from Hasnabad, male (65) from Shalimar, male (35) from Nawa Kadal, male (47) from Lal Bazar, female (35) from Habakadal, male (30) from Hawal, female (50) from Looswani Newa, male (69) from Monghama, female (33) from Wuyan, female (32) from Lelraw, female (52) from Habakadal, male (17) from Baghi Mehtab, female (40) from NA, male (48) and female (NA) from Shalimar.
Meanwhile, there was no death due to the virus. So far 4395 people have fallen victim to the pathogen in J&K—2156 in Jammu division and 2239 in Kashmir.
Moreover, they said, 156 more COVID-19 patients have recovered, 64 from Jammu Division and 92 from Kashmir Valley.
So far, 317627 people have recovered, leaving the number of active cases at 1303—545 in Jammu and 758 in Kashmir.
There was one fresh confirmed case of mucormycosis (black fungus) reported today. Thus far 42 black fungus cases have been confirmed in J&K, the officials added.