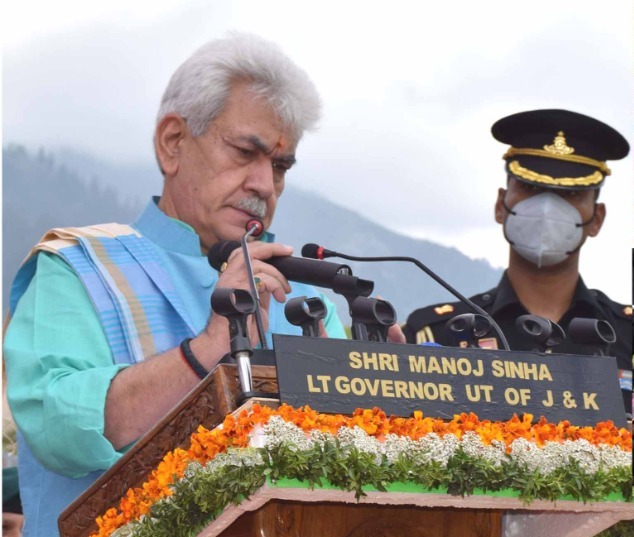 Kupwara, Aug 11: The Lieutenant Governor of Jammu and Kashmir Manoj Sinha Wednesday said that for a change in J&K, everyone has to play their part including the people and security forces besides the civil administration
Addressing the gathering at Bungus Awami Mela in north Kashmir's Kupwara district, the LG said that the main aim of tourism is not just to visit different places rather contribute towards the development and social progress. He said that with the flow of tourists, progress and development starts to happen even when the basic amenities are available to people.
"We all need to work on this beautiful place together," he said while praising Army for organizing Bungus Awami Mela in border district Kupwara.
He said that poor people live in the Bungus valley and the development has been distant from them in last year.  To mitigate their sufferings, the LG said: "I have held meetings with the Divisional Commissioner Kashmir and concerned Deputy Commissioner."
The LG said that people living here were not able to enjoy the forest rights Act but after the formal announcement of the Act and its implementation, the rights will be given to the people. The LG directed the forest department to facilitate the people in constructing their houses and not to act as a hindrance if they collect the fallen trees within the forests.
Pointing at the DC Kupwara, the LG said that 2000 households should be facilitated with safe drinking water in the shorter possible time and the concerned department be directed to start the work on ground. He also said that this Bungus festival is very special.
"For the change in people including security forces, and the civil administration have to play their role," the LG said. He maintained that efforts are being made to explore the unexplored destinations and people from different places are visiting here.
The tourism department along with the Army will ensure and facilitate the people visiting this place in times to come, he said.