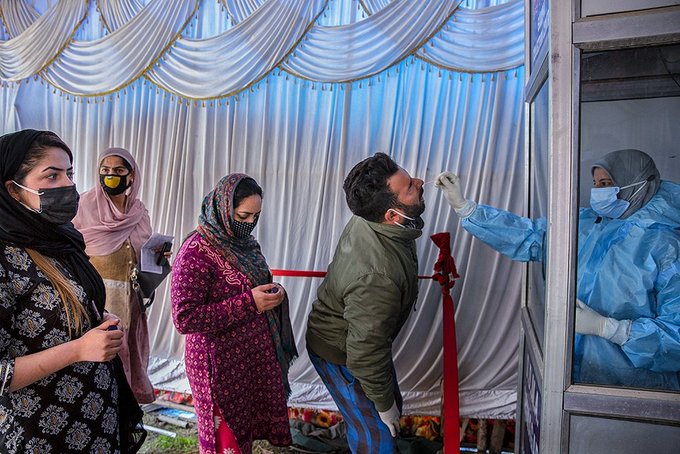 Srinagar, Jul 30: The Jammu and Kashmir Union territory on Friday witnessed one death and 137 fresh positive cases were also reported, taking the number of total active cases in the UT to 1,171.
With one more death reported in the last 24 hours, the death toll in the UT has reached 4,378 and 137 fresh positive cases reported on Friday have pushed the tally of positive cases to 321,344.
Of the exact number of 321,344 cases, 199,627 are from Kashmir division and 121,717 from Jammu division. Officials said that among 137 new cases, 79 belong to Kashmir division while as 58 are from Jammu division, adding that the total number of positive cases in Kashmir division have reached to 199,627 including 196,678 recoveries and 2,236 deaths while as total number of positive cases in Jammu division have reached to 121,717 including 119,117 recoveries and 2,142 deaths.
The officials said that the total number of active cases in Jammu and Kashmir are 1,144 including 710 from Kashmir division and 434 from Jammu division.
With 109 more recoveries, the tally of total recoveries in Jammu and Kashmir has reached to 315,795 which is 98.27 percent of the total cases.
"Cases tested positive in J&K include 26 from Srinagar, 15 from Baramulla, 07 from Budgam, 06 from Pulwama, 02 from Kupwara, 00 from Anantnag, 02 from Bandipora, 08 from Ganderbal, 13 from Kulgam and 00 from Shopian in Kashmir division while as 58 from Jammu division include 13 from Jammu, 01 from Udhampur, 08 from Rajouri, 14 from Doda, 01 from Kathua, 00 from Samba, 01 from Kishtwar, 04 from Poonch, 02 from Ramban and 14 from Reasi," officials disclosed.
Meanwhile, authorities on Friday said that no fresh case of Mucormycosis popularly known as black fungus was reported in the UT and tally stands at 35.
One Covid death has been reported from GMC Doda.
As per officials figures, 71,370 positive cases including 832 deaths and 70,223 recoveries are from Srinagar, 23,610 including 282 deaths and 23,221 recoveries are from Baramulla, 22,886 including 22,615 recoveries and 205 deaths are from Budgam, 15,174 including 14,928 recoveries and 194 deaths are from Pulwama, 14,060 including 165 deaths and 13,861 recoveries are from Kupwara, 16,322 including 16,079 recoveries and 205 deaths are from Anantnag, 9,467 cases including 9,350 and 100 deaths are from Bandipora, 9,897 including 9,771 recoveries and 78 deaths are from Ganderbal, 11,257 including 11,114 recoveries and 117 deaths are from Kulgam and 5,584 including 5,516 recoveries and 58 deaths are from Shopian.
In Jammu division, 52,754 including 51,498 recoveries and 1,139 deaths are from Jammu district, 11,291 including 11,129 recoveries and 135 deaths are from Udhampur, 10,927 including 10,651 recoveries and 225 deaths are from Rajouri, 7,241 including 7,024 recoveries and 125 deaths are from Doda, 9,262 including 9,106 recoveries and 151 deaths are from Kathua, 7,123 including 6,991 recoveries and 119 deaths are from Samba, 4,639 including 4,559 recoveries and 44 deaths are from Kishtwar, 6,261 including 6,128 recoveries and 95 deaths are from Poonch, 5,965 including 5,876 recoveries and 66 deaths are from Ramban and 6,254 including 6,155 recoveries and 43 deaths are from Reasi.
As per the daily information bulletin 2,834,122 persons in Jammu and Kashmir are under observation while 8,805 persons have been kept under home quarantine besides that 1,171 persons are in isolation.
According to the bulletin, 2,466,795 persons have completed the surveillance period and 352,973 persons are under home surveillance besides that so far results of 11,660,513 samples are available. Out of 11,660,513 the number of samples tested negative stands at 11,339,169 while as 321,344 have tested positive, among them 1,171 persons are active, 315,795 persons have recovered and 4,378 persons have died.