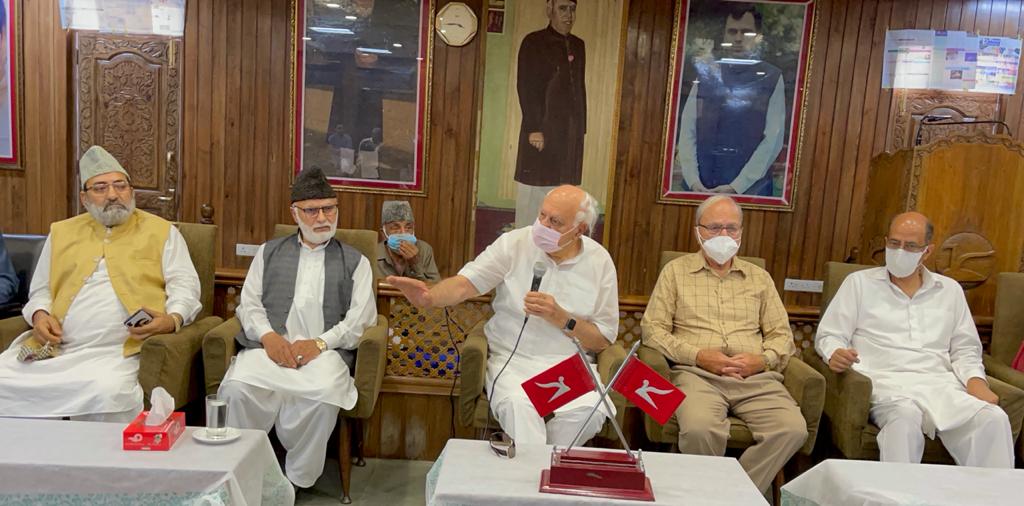 Srinagar, July 13: The Jammu and Kashmir National Conference President and Member of Parliament from Srinagar Dr. Farooq Abdullah on Tuesday led the party functionaries in offering Fateh to the Martyrs of 1931 here at party headquarters Nawa-e-Subha, Srinagar.
In his address, Dr. Farooq recalled the supreme sacrifice of the martyrs of 13 July 1931 and paid homage to each of them and many such unsung heroes who laid their lives for dignity and political rights of people of J&K.
"13th July is a turning point in the history of Jammu & Kashmir.  On the eventful day, the people of Kashmir unlocked themselves from the years of coyness that had snared them. The intrepid and dauntless heroism shown by our unarmed martyrs will continue to inspire forthcoming generations to eternity; no matter how many years pass the pain that was inflicted on the hearts of Kashmiri on that day will always remain the same. We will never fail to remember their supreme sacrifice for liberating the future generations from the years of bondage and despotic rule," he said.
He said that it was Sher-e-Kashmir, who took it upon himself to carry forward the legacy of our fallen heroes. This distinctive feature of our community character, he held, was fashioned by many sacrifices and manifested in the ideology of the National Conference in the shape of appropriation of J&K's aspirations for an environment that guarantees a suitable accommodation of our indigenous socio-political complexes within the Union of India.
"Our best tribute to our heroes will be to continue with our peaceful, democratic and constitutional struggle in getting our historical individuality back. With 13th July martyrs as our guiding stars, I'm sure we will steer Jammu, Kashmir, and Ladakh to safer shores," he said.
He said that during his audience with the PM, he brought the ever increasing trust deficit between New Delhi and J&K to its notice and that it was for New Delhi to come out of its shell and recognize Jammu & Kashmir's individuality shaped by the sacrifices like 13 July 1931.
General Secretary Ali Muhammad Sagar, Additional General Secretary Dr. Sheikh Mustafa Kamal, Provincial President Nasir Aslam Wani, State Women's Wing President Shameema Firdous, Central Secretary Irfan Shah, Provincial Vice Presidents Muhammad Syed Akhoon, Syed Tauqeer Ahmed, District President Srinagar Peer Afaq Ahmed, Spokesperson Imran Nabi Dar, Provincial Vice President North Zone Vice President Dr. Sajad Shafi Uri, YNC Provincial President (K) Salman Ali Sagar, Women's Wing President (K) Er. Sabiya Qadri, Youth Leader Ahsan Pardesi, Adv. Shabir Ahmed, GN Tailbali, Qaisar Jalali, Dr. Syed also joined the party president in paying homage to the revered Martyrs of 13 July 1931.