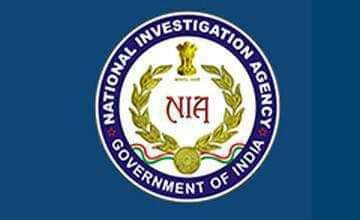 Srinagar, July 11: National Investigation Team (NIA) on Sunday carried out raids at multiple places in Kashmir Valley and arrested several persons including chairman of a Darul Uloom (Islamic seminary) by name of 'Sirajul Uloom' here.
Sources said that NIA team along with Jammu and Kashmir Police and paramilitary CRPF raided several places in south Kashmir and Srinagar in connection with some case(s) details of which were no known hitherto.
They said NIA team raided at Darul Uloom 'Sirajul Uloom' at Dalal Mohalla Nawabazar Srinagar and seized some office records and a laptop besides arrested it's chairman Adnaan Ahmad Nadvi son of Noor Din Bhat of Haka Bazar Hawal here. The institution is affiliated with the Islamic seminary in UP.
The raid at Srinagar followed by similar action by NIA at villages Pushroo, Sunsooma, and Achabal in south Kashmir.
The NIA teams arrested several persons there including one Javaid Ahamad Mir (28), MBA by qualification and Shopkeeper by profession, son of Mohammad Shaban Mir of Sunsooma, Umar Bhat (running ready-made garment shop at Achbal) son of Nisar Ahamad Bhat of Magray Mohallah Achabal,
Ovais Ahmad Bhat (Lab Technician) son of Nisar Ahamad Bhat, also resident of Magray Mohallah Achabal, Tanveer Ahmad Bhat (26), shopkeeper, son of Gull Mohammad Bhat of Gorimohallah Achabal and Zeeshan Ameen Malik (22), chemist at Janglat Mandi Anantnag, son of Mohammad Ameen Malik of Pushroo Nowgam Achabal The NiA team left from the J/d along with arrestees towards Anantnag.
Searches Were Carried In 7 Locations In Anantnag, Srinagar In ISIS Voice of Hind Case: NIA
NIA on Sunday conducted searches at seven locations in Anantnag and Srinagar districts of Kashmir Valley in "ISIS voice of hind case", India's premier investigation agency said on Sunday.
"NIA conducted simultaneous searches in Srinagar and Anantnag at 7 locations in connection with RC 14/2021/NIA/DLI (ISIS voice of hind case)," NIA said in a statement issued here.
The case was registered by NIA on 29 June this year under sections 124A, 153A, &153B of IPC and sections 17, 18, 18B, 38, 39 & 40 of UA(P) Act 1967 in connection with the conspiracy of the organization ISIS to "radicalize and recruit impressionable youth in India to wage violent jihad against the Indian State."
"In order to execute its nefarious plan, an organized campaign has been launched over the cyber space which is supplemented by on ground (militant) financing activities. ISIS operating from various conflict zones along with ISIS cadres in India, by assuming pseudo- online identities, have created a network wherein ISIS related propaganda material is disseminated for radicalizing and recruiting members to the fold of ISIS," the NIA said in a statement, adding, "In this connection an India-Centric online propaganda magazine 'the Voice of Hind' (VOH) is published on monthly basis with an aim to incite and radicalize impressionable youth by projecting a skewed narrative of imagined injustices in India to arouse a feeling of alienation and communal hatred."
The NIA said searches in the case led to recovery and seizure of a large number of "incriminating documents and digital devices such as mobile phones, tablets, laptop, hard disks and T-Shirts having ISIS logo."
"Investigation in the case continues," the NIA said. However no details about arrests were made.