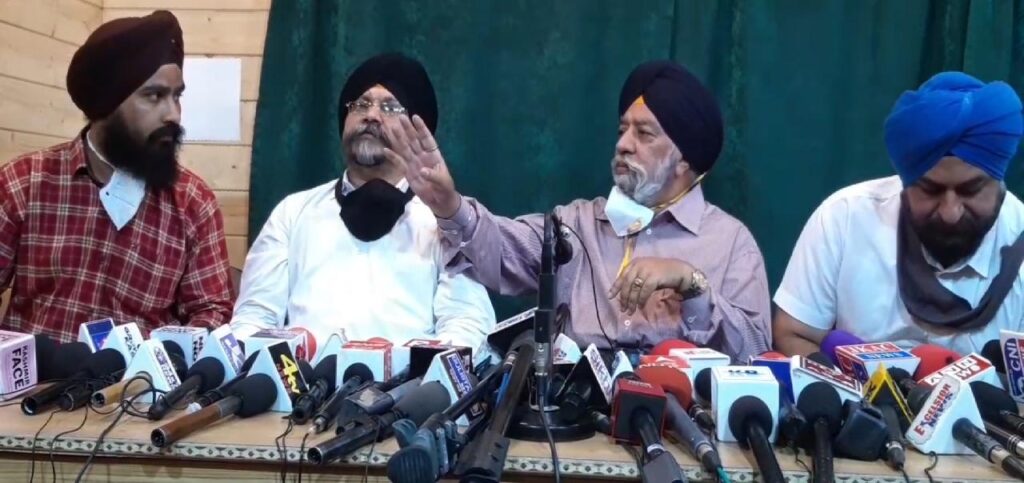 Srinagar, June 29: At a time when a section of Sikh community is up in arms alleging 'abduction' of a girl from its community here in Kashmir capital Srinagar, a Muslim family from Central Kashmir's Pakharpora in a latest complaint to police has claimed that a non-local JCB driver from Sikh community has eloped their 20-year-old daughter.
Some non-local Sikh leaders who arrived in Kashmir yesterday used the words like 'forced conversion', 'abduction' of Sikh girls in Kashmir.
Majinder Singh Sisa president Delhi Gurdwara Prabandhak Committee yesterday claimed that at least 3 girls from Sikh community have been forcibly 'converted' after their 'abduction.' He even questioned the conviction and rectitude of Judiciary accusing a Judge of 'bias' and 'favoritism'. He reminded Kashmiri Muslims of the help provided by 'Khalsa Aid' during the devastating floods in 2014.
"Not everyone from Sikh community agrees what Majinder Singh Sisa said. Both communities live in harmony for centuries in Kashmir and we don't support and subscribe to the politics that is being played over a solitary incident," said a young Sikh from the community on condition of anonymity to news agency Kashmir News Trust.
There are numerous incidents which don't find any space in print, electronic or social media wherein Muslim girls 'eloped' (abduction is not a suitable word) with non-Muslims in Kashmir-a fact which is hard to digest.
Affected families in most cases remain silent to save themselves from the embarrassment and scornful attitude of their relatives and neighbours.
A couple of months ago, a girl from a Chadoora village went missing. The family lodged a report at Police Station claiming that a non-local from Assam has eloped her.
In another police station from Srinagar city a report was submitted wherein parents claimed that a non-Muslim tried to elope her daughter.
Dozens of missing reports of girls get registered on daily basis in police stations. In most of the cases, that police investigate, it surfaces that girls fled away with their male companions willingly.
"The incident involving a Sikh girl was blown out of proportion. The incident attracted attention just because female was from minority community," said a Sikh who was part of a press conference held in Srinagar today where participants castigated non-local Sikh leaders of trying to create a wedge between Sikhs and Muslims in Kashmir.
Paramjeet Sarna, president one of the factions of Shrimoni Akali Dal also said that Sikhs and Muslims are living in harmony in Kashmir while some vested interest elements are trying to widen the gap between the two communities. He said Sikh girl in question has not married in the court and today she was formally wedded to a Sikh youth.
Meanwhile, a police official said they will constitute a team to ascertain the location of the non-local from Punjab who according to the father of the girl is the culprit and has eloped her daughter. Police have registered a formal FIR vide number 79/2021 under section 366 in this regard.
On 4 June this month, father of a girl from Syedpora Harwan reported at police station that her daughter was abducted by a non-local carpenter namely Arvind Gill of Punjab. Police acted swiftly and on the next day recovered the lady and kidnapper from Udhampur and brought them to Harwan.
Similarly, police recently arrested a 17-year-old non-local along with abducted girl from Srinagar. A formal FIR vide number 3/2021 under section 366-IPC against guy stands registered.
A well-known Journalist said that such incidents are shameful and painful too for parents but these incidents should never be seen through the prism of religion. knt