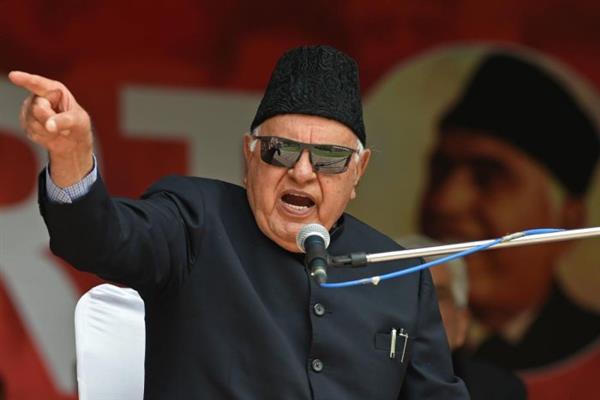 Srinagar, June 26: National Conference president and member parliament Farooq Abdullah on Saturday said that "let's not jump and see if the centre was ready to remove mistrust existing on the ground in Jammu and Kashmir.   
"Let me make it clear. I told them that the first Prime Minister promised us plebiscite and went back on it. (P. V.) Narasimha Rao promised us autonomy and said sky is the limit. He promised us autonomy on the floor of the House. Where is it," Farooq said while addressing the media here first time after the all party meeting chaired by Prime Minister by Prime Minister Narendra Modi.
"I tell you frankly there is level of mistrust and that mistrust has to be removed and how you (GoI) remove it, you have to decide. That is why Dr Karan Singh, if you see today's newspaper, said that statehood must be brought forward," he said.
"Let's not jump. Let's see what they do to remove that mistrust and will they continue the mistrust," Farooq said as Omar Abdullah pushed him to say "ok it's enough" to draw close the presser.
Farooq was responding to the question if there is possibility of second meet with central leadership. "Nothing is fixed as of now," Omar, who was flanking Farooq, said.
Earlier at the start of the presser, the senior Abdullah said meeting with the Prime Minister "was very good."
"Every party kept their opinion before them. It related to somehow better situation in J&K and start political process in J&K. I have nothing else to say. Unless I talk to my party, I cannot speak any further on the issue. Rest as Omar sahib has talked about to press regarding it," Farooq said.
Asked that you and other participants talked in individual party capacities and not as PAGD (People's Alliance for Gupkar Declaration) and it should that be construed as an end of the Gupkar alliance, Farooq said: "Why should there be end of the alliance?"
At this time, Omar interrupted and said: "we were not invited on the basis of alliance. Had it been so, only one would have been invited. There, the parties were invited. National Conference, PDP and CPI (M), who are members of Gupkar alliance, attended the meeting.
In the meeting we didn't say anything outside the agenda of the Gupkar Alliance."
He further said: "We said that we don't accept 5 August 2019 decisions. We have to peacefully, constitutionally, legally and politically do everything what it takes to undo it (5 August 2019) decision.
Where does Gupkar alliance deviated from agenda? Nobody among us, Gupkar alliance members, said that we accept 5 August and move forward."
The former chief minister Omar Abdullah said that at APM, "We said people are disappointed and do not accept the decision."
"We don't want to betray people. If we tell people that we are seeking reversal of August 5 from Modi Sahib, it would be a betrayal? Those who snatched from us, shall we betrayal people by saying we are getting it back from them?"
He said that in the meeting chaired by the Prime Minister, both "Mehbooba ji and Farooq sahib" said that it took BJP 70 years to fulfill its agenda and "if it takes us 70 weeks or 70 months, or whatever time it takes, we will not retract from our mission."
"Whatever we had to say, we said so in clear words and the Prime Minister listened. What else we had to say?"
Regarding Delimitation Commission, Omar said that the party has authorized "Dr Sahib" to take the view as and when necessary. "There has been no fresh approach from delimitation commission and as and when delimitation makes an approach to Dr Sahib, he will take the view."
Asked what is that view, he said, "why should we tell you (press) here, we will tell delimitation commission."
Asked regarding Union Home Minister Amit Shah's view that there ought to be delimitation and elections as precursor to polls, Omar said, "Amit Shah's talk came after others spoke. Before Prime Minister's address, Ghulam Nabi Azad (senior congress leader) expressed view on behalf of all of us and said that this timeline is not acceptable to us. Not delimitation-election-statehood but delimitation-statehood-election. If you have to conduct election, return statehood and the only there can be talk on elections."
Omar further said: "This has been put across by Azad sahib and we will continue to stress on it. We will do so time and again."
Regarding Article 370, Omar said not body except Ghulam Nabi Azad and Muzaffar Hussain Being 'unfortunately' talked about 'sub judice' nature of it. "We said we will fight for it peacefully, constitutionally, legally and politically," Omar said, adding, "I don't believe that just it is before Supreme Court that we cannot talk about it. It is subject of discussion. It was subject in DDC polls. We will continue to agitate matter. We will peacefully, constitutionally, legally and politically we will continue to exercise our right."
Asked that until Article 370 is restored, will you not be contesting elections personally, he said, "I am not sitting personally here. I represent party. I have time and again answered this question that I have no intention of contesting elections for now and party decision is there at its own place."
Asked if it was about only assembly elections or included parliament polls, he said, "What is you to do with it. I have said that I have no intention to contest elections for now."
Asked if Muzaffar Beigh and Ghulam Nabi Azad by talking sub-judice nature of Article 370 have weakened the stance of Gupkar alliance, Omar said, "neither of them are members of Gupkar Alliance. Muzaffar Hussain sahib was the member and in fact he openly told PM that he has no political allegiance
And he doesn't represent any party. Azad sahib belongs to Congress and that they have their own view. This view is not binding on use and Gupkar alliance."
Omar further said, "Just because this matter is before Supreme Court or other matters are before (it), does it mean we stop talking about them. Babri Majid demolition was before Supreme Court and did BJP stop talking about it. They continue to push their agenda of Ram temple. Just because the matter is sub judice or before Supreme Court, it will not stop us from expressing our views and we will continue to do so."
He added: "Talk to people in J&K, if any one tells us to stop talking about hospital construction, Deputy Commissioner arrest someone for merely saying that he wish to talk to local officer as outsiders do not comprehend him..people are being harassed and arrested. There is unchecked bureaucratic rule and if people say all this good till there is decision from Supreme Court, we will surrender ."
He said if people want relief and if they want there should be an officer who listens to them and address their problems and those who care about education and health, "the vehicle can move on both tracks." "We will not leave that (Article 370) fight. However wherever people get some kind of solace, we should do it". gns