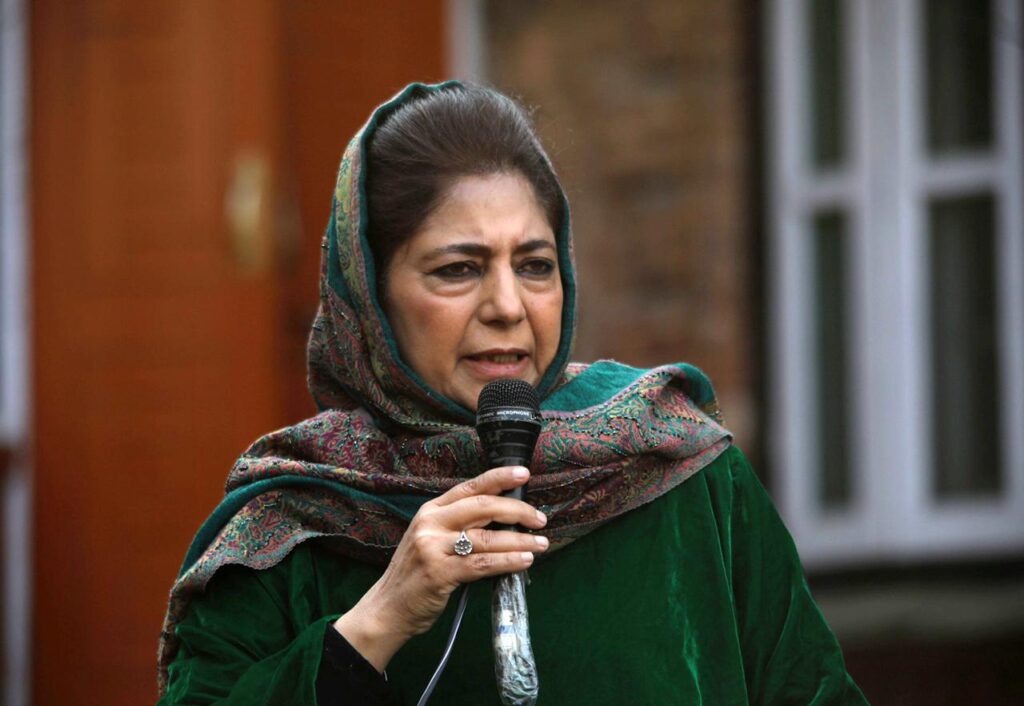 Srinagar, Jun 25: A day after participating in All Party Meeting chaired by Prime Minister Narendra Modi in New Delhi, former chief minister of Jammu and Kashmir and Peoples Democratic Party (PDP) chief, Mehbooba Mufti on Friday said that she will not fight the elections until and unless Article 370 will be restored.
In an exclusive interview to a national television channel, Mehbooba made it clear that she will not contest in any elections till Article 370, scrapped by the central government on August 5, 2019, is restored.
However, she said that her party will contest the polls to ensure that the ground is provided to other parties, who cannot deliver as per the expectations of the people.
About yesterday's meeting, she said that it was told by the chair that Statehood will be restored, but there was no clarification from the chair as to when the decision will be taken.
She said that there was a need to start with Confidence Building Measures (CBM) programmes in Jammu and Kashmir, saying that instead of going ahead with the elections, the government should have started CBM measures to take the people into the confidence.
"The people are quite disturbed and depressed. The siege in Jammu and Kashmir should be lifted," she said.
She further said that the situation has not changed on the ground in Jammu and Kashmir, saying that the continuous unfavourable situation on the ground has forced the government to talk with 'Gupkar gang'.
Mehbooba said that the promises done by the government after Article 370 abrogation have not fulfilled as there was no end to the militancy related incidents in J&K as well as the number of youth picking up arms.
"Killing militants may be successful operation for the security forces, but it cannot be success for the government. There is a need to think why the young men are picking up guns. We have to reach out to the people so that number of youth taking guns will be reduced," she said.
She said that the talks were held in good atmosphere and Prime Minister gave patient hearing to the leaders and claimed that "Delhi ki Duri Door Karni Hai". "I hope PM Modi means it and the people in J&K could heave a sigh of relief," she said.
She added that people were not expecting elections and delimitation exercise from a meeting, they were expecting something different as they wanted to ensure that the government should stop making frequent decision, which are giving apprehensions that the measures are being taken to make geographical changes in J&K.
Mehbooba also stated that she pitched for the release of political prisoners and anyone booked under stringent charges can at least be shifted to local jails.
She said that the government should hold dialogue with everyone including Pakistan. "It is dialogue that led to ceasefire due to which people are heaving sigh of relief. Talks should also be held Pakistan on other issues like resumption of trade and other things," she said.
She also said that the government should consider demands of Pakistani wives of Kashmiris, saying that either they should get citizenship rights or should be deported back to Pakistan. kno