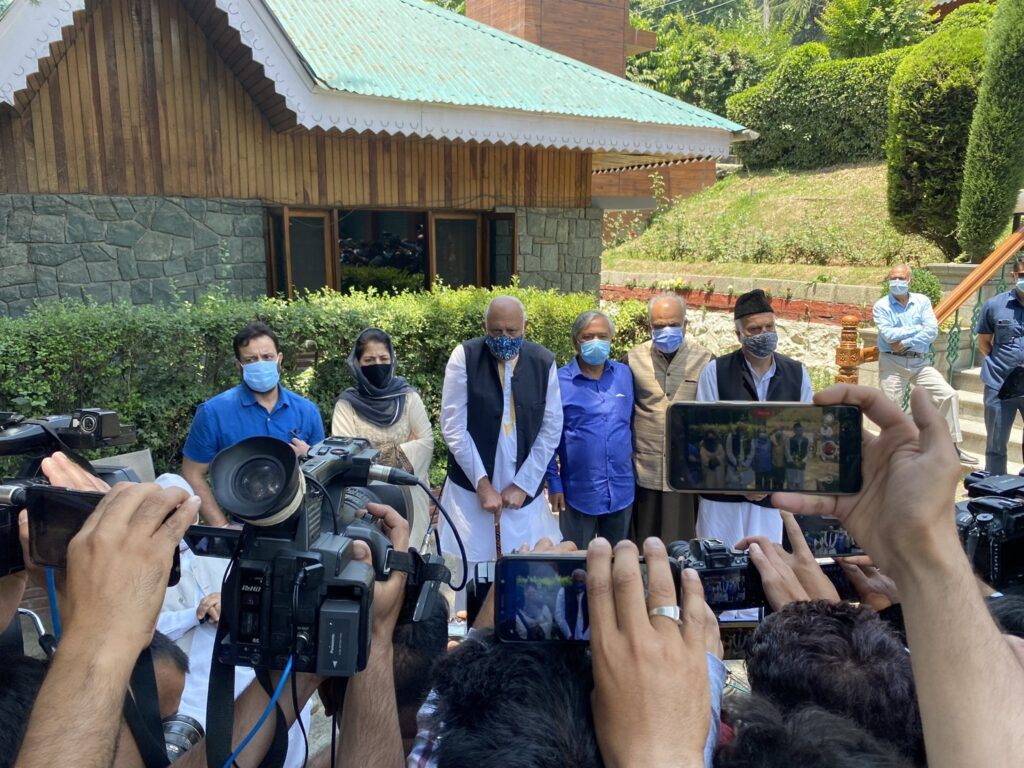 Srinagar, Jun 22: The stage is all set for an all-party meeting, scheduled to be held Thursday (June 24) in New Delhi as the mainstream leaders from Jammu and Kashmir, who were invited for the meeting, arrived in New Delhi on Wednesday.
The All-Party Meeting to be chaired by Prime Minister Narendra Modi is scheduled to be held tomorrow in New Delhi at 03:00 PM.
Sources said that the J&K leaders including National Conference president Dr Farooq Abdullah, Peoples Democratic Party (PDP) president Mehbooba Mufti, Jammu Kashmir Pradesh Congress Committee (JKPCC) chief Ghulam Ahmad Mir, Apni Party president Syed Altaf Bukhari and CPI (M) senior leader Muhammad Yousuf Tarigami and Congress leader Tara Chand have arrived New Delhi today.
Congress senior leader and former J&K chief minister Ghulam Nabi Azad, who is also among the invitees, is already in New Delhi while Peoples Conference (PC) Chairman Sajad Ghani Lone has reached yesterday and NC vice president and former J&K chief minister Omar Abdullah, has been in New Delhi for over one week.
Bharatiya Janata Party (BJP) J&K president, Ravinder Raina and senior party Ravinder Raina have also reached New Delhi today while former Deputy chief minister Nirmal Singh will reach New Delhi tomorrow to participate in the All-Party Meeting.
Pertinently, soon after the mainstream parties were invited for the meeting, hectic deliberations took place within the political parties as well as People's Alliance for Gupkar Declaration (PAGD), a conglomerate of mainstream political parties comprising of NC, PDP, CPI (M), Jammu Kashmir Peoples Movement (JKPM) and Awami National Conference (ANC).
PAGD headed by Dr Farooq Abdullah announced its participation in the meeting after an hour-long meeting on Tuesday afternoon.
Meanwhile, JKPCC president G A Mir when contacted said that the leaders after hearing the agenda of the meeting will raise the issues confronting the people, decision taken on August 05, 2019 and the situation on ground that arose after BJP government's decision two years back. kno