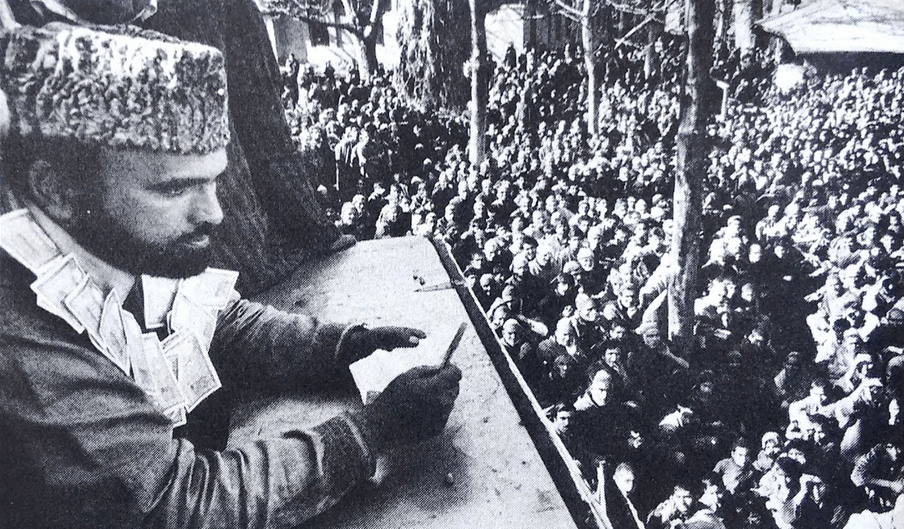 Anantnag 19 June: Hundreds of people on Saturday reached the Martyrs graveyard of Islamabad (anantnag) where the slain Mirwaiz of South Kashmir, Dr. Qazi Nisar is laid to rest. People from nooks and corners of South Kashmir visited the graveyard of the slain Mirwaiz and offered Fate Khwani to him.
Maintaining covid protocols, people also visited Dialgam where the leader was shot dead by unknown gunmen, where locals had kept drinking water arrangments for the bypassers. Floral tributes were paid to Dr. Qazi Nisar Ahmed.
Jammu Kashmir Ummat e Islami had cancelled the public function this year considering the covid situation in the valley. However, various religious and Political parties thronged his graveyard and paid rich tributes to the slain Mirwaiz.
On this occasion, drinking water was provided for people in the main squares of Shopian, Pulwama, Anantnag and Kulgam districts of South Kashmir. Khair e Aam trust which was launched by Dr. Qazi Nisar in 1985 with an aim to help the needy sections of the society also arranged food for the patients and their attendants at the District hospitals of all the four districts. More than 800 food packets were distributed in these hospitals to commemorate the 27th martyrdom anniversary of Dr. Qazi Nisar.
The trust also distributed masks, face shields and food packets among people in remembrance of the slain Mirwaiz of South Kashmir.
Remembering his services, Moulana Reyaz Ahmed said, "Dr. Qazi Nisar's courage, bravery and selflessness is still spoken of, 27 years after his martyrdom. The talk of his dedication runs across the mental spaces of Kashmir, the young and the old. He did not budge down to the power."
He said that Dr. Qazi Nisar's sacrifices for the people of Kashmir including selling his ancestral property are still remembered as one of the greatest sacrifices. "We have not forgotten him, nor has any Kashmiri from the day he sacrificed the animals to defy beef ban or to uniting Kashmir under a single banner in 1985". kns