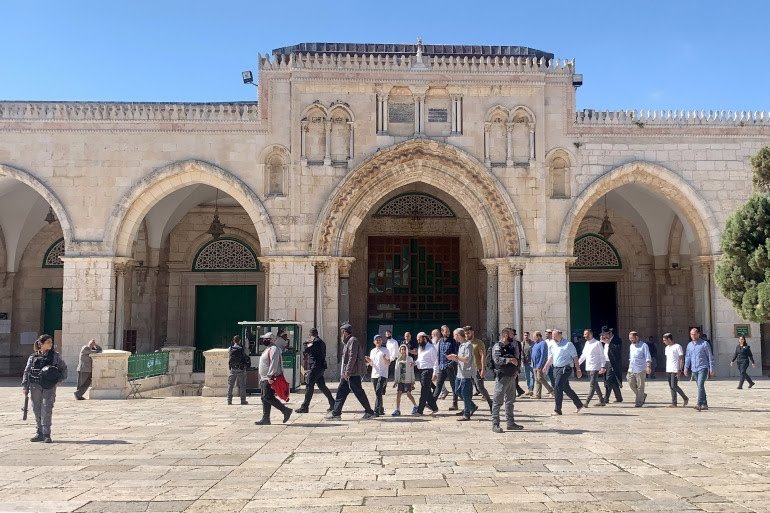 Jerusalem: At least nine Palestinians were hurt after Israeli forces stormed the Al-Aqsa Mosque compound in occupied East Jerusalem on Friday, the Aljazeera reported. 
Following Friday prayers, Palestinian worshippers started a rally in support of the Prophet Muhammad in response to insults directed at him during a hardline Israeli march through the area on Tuesday, reports said.
Palestinians gathered in the courtyard, but before they began their march from Al-Aqsa to the Old City's Damascus Gate, Israeli forces raided the compound through Bab al-Silsila, one of its entrances, added reports.
Reports quoting Palestinian Red Crescent said nine people were hurt, with three hospitalised, as Israeli forces fired rubber-coated steel bullets, tear gas, and stun grenades, emptying the compound of thousands of worshippers.
Israeli police said they arrested 10 Palestinians at the compound.
Hundreds demonstrated after Friday prayers in response to a rally held by Jewish ultranationalists on Tuesday, in which dozens chanted "Death to Arabs" and "May your village burn".
"The Palestinians protested against insulting Prophet Muhammad after an online video showed some of the participants in the Tuesday march denigrating him."
Reports said that Israeli forces shot one of its journalists, Latifeh Abdelatif, in the knee with a rubber-coated round as they raided the Al-Aqsa Mosque compound.
The London-based news website said one of its contributors, Sondus Ewies, was also wounded, but the extent of her injuries remained unclear. (AlJazeera)