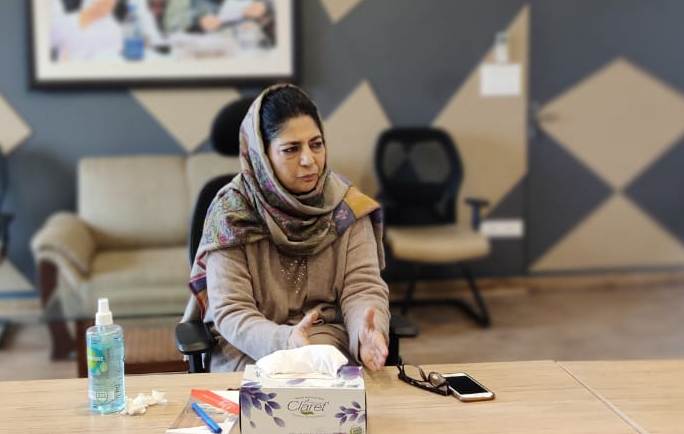 Srinagar, May 30: Former Chief Minister erstwhile state and People's Democratic Party president Mehbooba mufti and Apni Party President Syed Mohammad Altaf Bukhari on Sunday expressed deep shock and grief over a heartbreaking incident in which a 24-year-old youth of Kulgam district recorded a video message to invite government attention towards the miseries of his family before committing the suicide.
Mehbooba while expressing her anguish on twitter said, "A man sacrificed his life to highlight the plight of teachers like his father whose salaries have been stopped since 2018.J&K admin should be held accountable for his death & plunging such families into dire straits.Hope new CS adopts a more humane approach unlike his predecessor".
Meanwhile Bukhari demanded that a strict action must be taken against those officials whose impervious attitude resulted in this sad incident. "The youth took his precious life as his father who was a teacher by profession was not paid salary for the last over a year which had created disastrous circumstances for his entire family. The officers responsible stopping his salary must be booked for abetment in suicide case," Bukhari remarked.
He urged the Lt. Governor of J&K to order a thorough probe in this matter on humanitarian grounds and bring the officers to book whose lackadaisical approach forced the youth to sacrifice his life.
Bukhari also demanded that the families of the teachers whose salaries have been withheld due to some frivolous reasons must not be allowed to suffer and the departed should immediately release their salaries before they are forced to resort to such unwarranted actions.
"I appeal the present dispensation to adopt a humanitarian approach and refrain from adding to the already existing alienation among masses. The pandemic has already proven disastrous and has brought economic depravity to the people and the people at the helms should not draw sadistic pleasures of the miseries of the people in such circumstances," he observed.
Bukhari said that denying salary to government employees for trivial reasons amounts to abuse of human rights as well as the labour laws enshrined in the Indian constitution. "By withholding the salaries you are not only depriving an employee of his fundamental rights including a dignified livelihood but you are also snatching right to life of his family members whose welfare depends on the wages of their bread earner," Bukhari opined.
(With inputs from kdc)