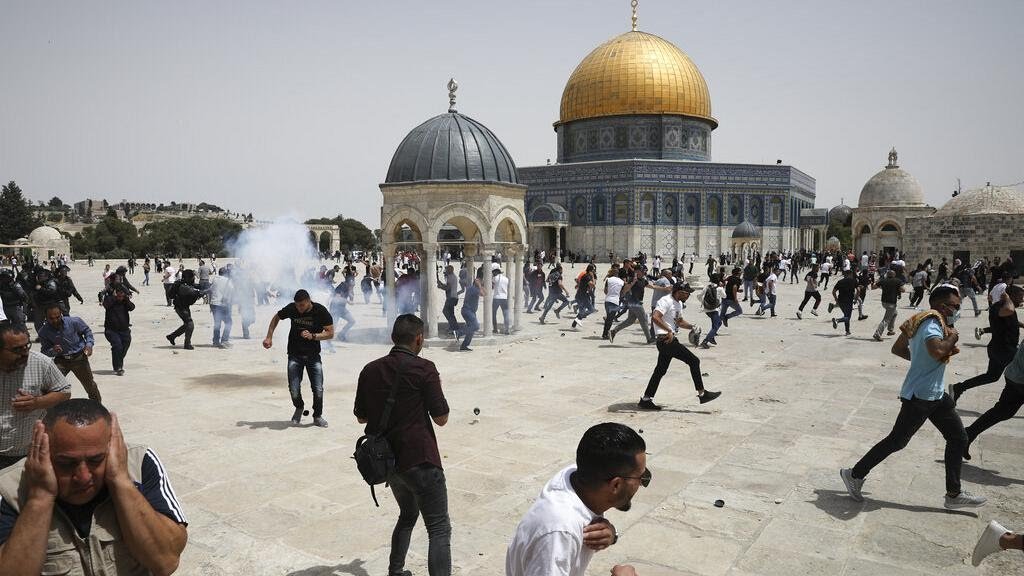 Jerusalem; Dozens of Jewish settlers, flanked by heavily armed Israeli special forces, stormed the Al-Aqsa Mosque compound in occupied East Jerusalem in the early morning, the Aljazeera reported. 
They were flanked by heavily armed Israeli special forces, hours after Palestinian worshippers were beaten and assaulted by Israeli police, according to the Islamic authority overseeing the site, reports said.
Citing witnesses, reports said Israeli police had earlier on Sunday assaulted Palestinian worshippers who were performing dawn prayers at the mosque and "excessively beat" them in order to make way for Israeli Jewish settlers to storm the compound – Islam's third-holiest  added that at least six Palestinians had been arrested, including Fadi Alyan, a guard at the Al-Aqsa Mosque who tried to film the incident, and Ali Wazouz, an employee of the Islamic Waqf Council, the religious body appointed by Jordan to oversee the Al-Aqsa compound.
Israeli police also increased restrictions at the gates leading to Al-Aqsa, barring worshippers under the age of 45 from entering the mosque.
Reports said the makeup of those visitors are usually Jewish settlers or Israelis that are "far-right leaning or ultra-nationalists".
This comes at a time where the tensions are very high … Those visitors go in surrounded under the protection of Israeli forces," Abdel-Hamid said, adding that some scuffles that broke out.
Those visitation rights were suspended from the holy month Ramadan because there were "a lot of tensions" in the compound, she said, but Sunday was the first day that they were reinstated. (Aljazeera)